Egg-Crowned Quinoa
There's something royal about a colorful dish of quinoa jewels crowned with the whites and bright yellow yolk of a "sunny-side up" egg. It's a great option for a quick and healthy afternoon snack, or even a full lunch depending on your portion size.
Prep: 10 minutes     Cook: 10 minutes   Serves: 1-3 (depending on portion size)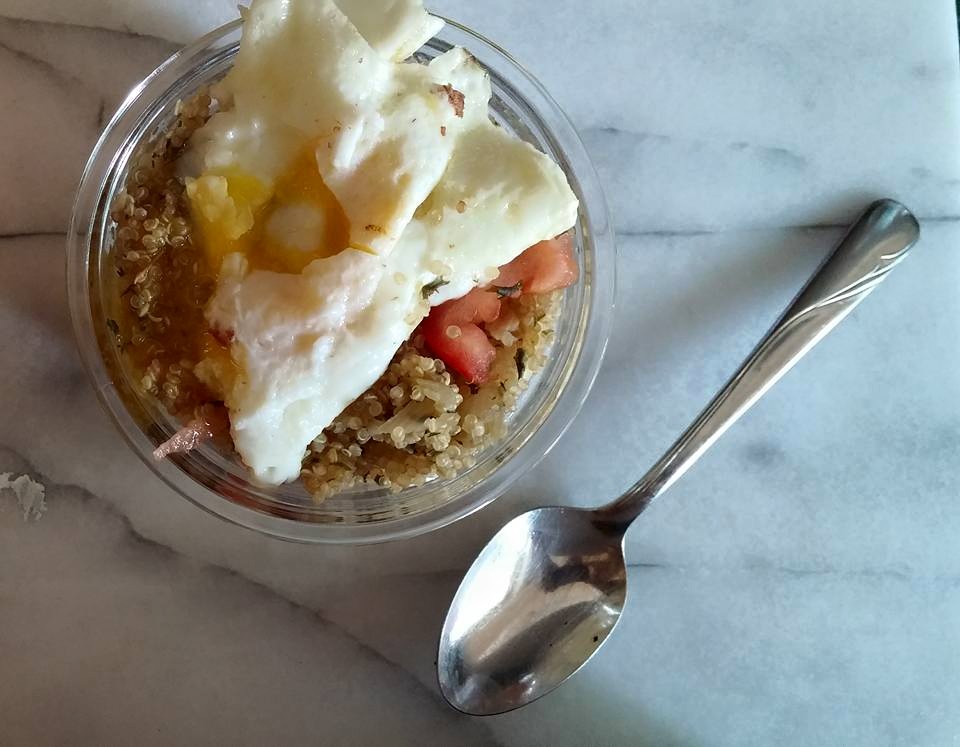 Let's Get Started:
2 cups quinoa
1 mushroom, finely chopped
½ plum tomato, finely chopped
½ onion, finely chopped
1 sprig of parsley, chopped
1 tablespoon EVOO
2 cups water
1 teaspoon salt
Let's Get Cookin':
Chop up mushroom, tomato, onion and parsley. Set aside.
Put quinoa in a microwaveable bowl. Add two cups of water (or less depending on bowl size,) onion and mushroom.
Microwave the quinoa and veggie mixture for 5 minutes, covering the bowl lightly (I generally use a paper towel or a small plate.)
Remove from microwave and stir, add salt.
Microwave for five more minutes.
Remove from microwave and add salt, EVOO, parsley and tomato.
Fluff up the quinoa in the bowl.
In a greased pan, drop one egg and let cook until "sunny-side up."
Remove egg from stove and place over quinoa.
Let's Get Creative:
There's a lot of leeway in this recipe to cater to your specific taste! I chose to use these veggies because they are what I had on hand and I find them to be extremely yummy together. Any veggies will work with this recipe as long as you chop them up.
Enjoy! Stay classy! xx
---