It Starts With Us – Colleen Hoover's Latest Is Now Available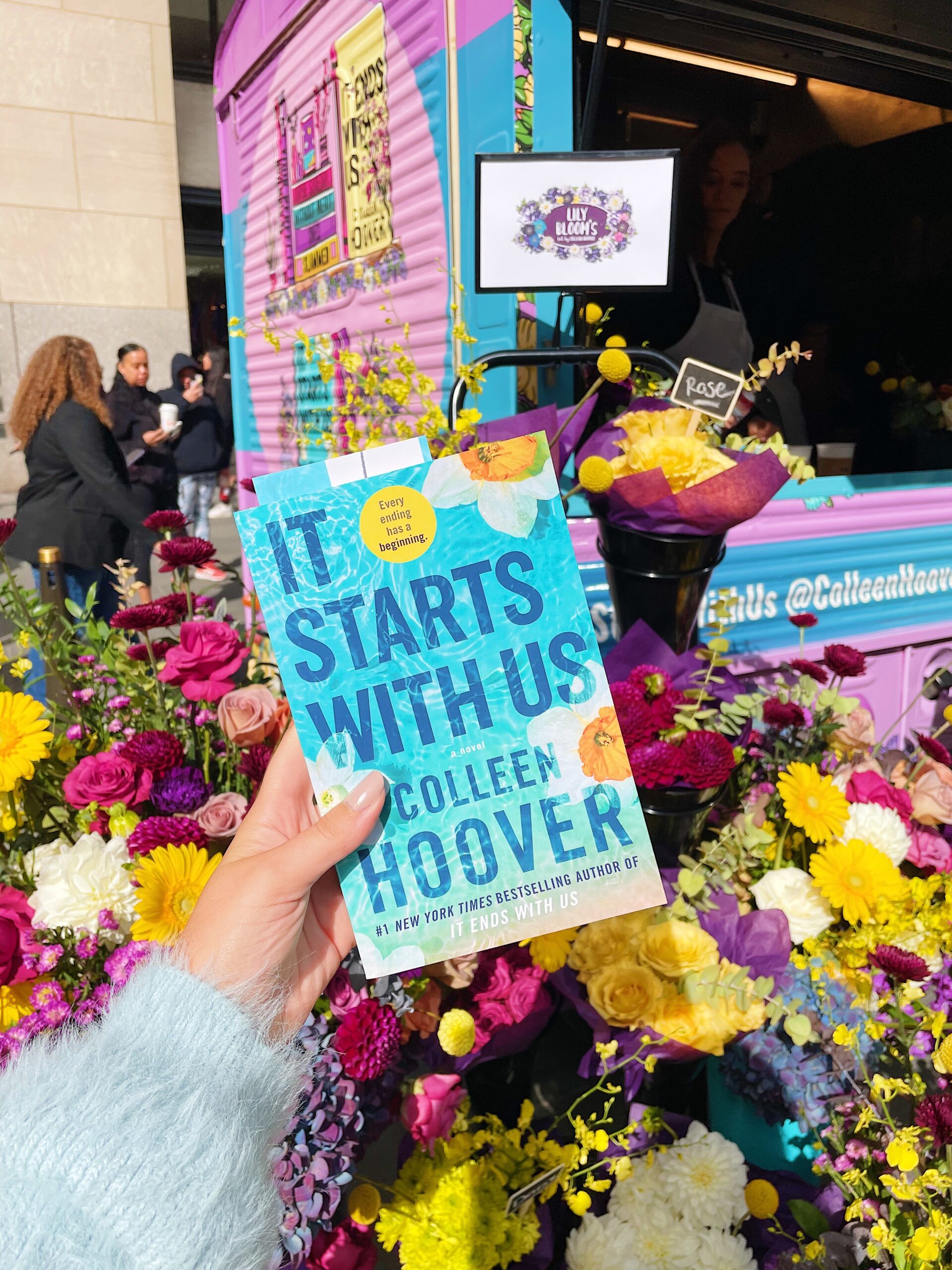 It Starts With Us, the highly anticipated sequel to Colleen Hoover's New York Times Bestseller, It Ends With Us is available today. Lovingly known as CoHo by fans around the world, Hoover is known for addicting romance novels. Fans often share their obsession of her work online on Bookstagram and BookTok. She's sold more books than any other author. Period. And more copies of her books have sold than copies of the Bible. But today, in celebration of the It Starts With Us launch, we gathered in person.
Rockefeller Center was hopping today, but this time the hours long line wasn't because of the ice skating rink. Atria Books, the publisher of It Starts With Us and a handful of other CoHo novels, hosted a popup to celebrate the book's publication day. Complete with a beautiful Lily Blooms flower stand, and 'Bib's Restaurant' cookies, fans came together for an afternoon of It Ends With Us fun.
The Lily Blooms Book Cart – It Starts With Us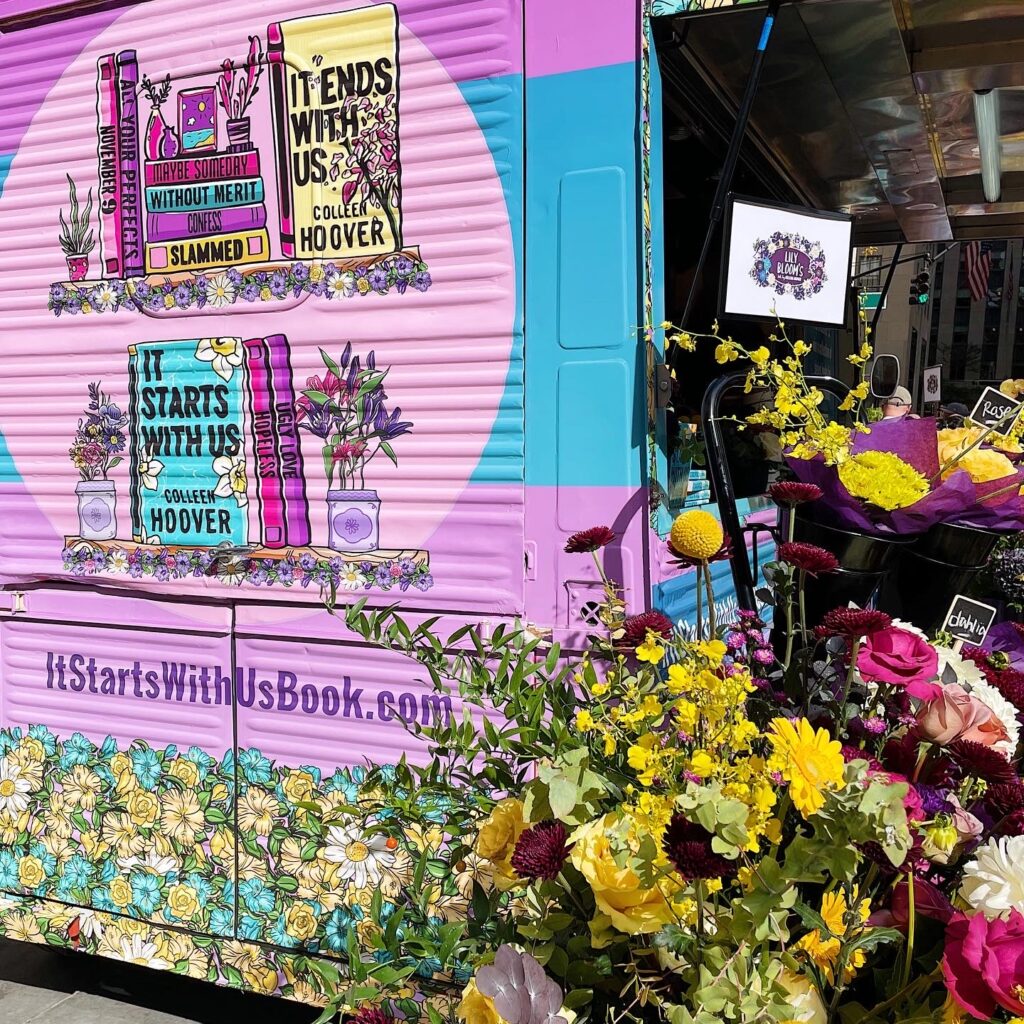 By the time I arrived at the popup, it had already been going on for a few hours. People had just made it to the front of the line who had been waiting since 9:30 (the popup wasn't open until 11:30!). There was over a two hour wait to get up to the flower cart. Ever efficient with my time (and admittedly getting over a stomach bug) I skipped the treats and went straight to the book cart! The Strand Bookstore provided copies of It Starts With Us with signed bookplates for readers to buy on the spot. I picked up my copy and have been jittery ever since. All the feelings I had while reading It Ends With Us are coming back to me all at once.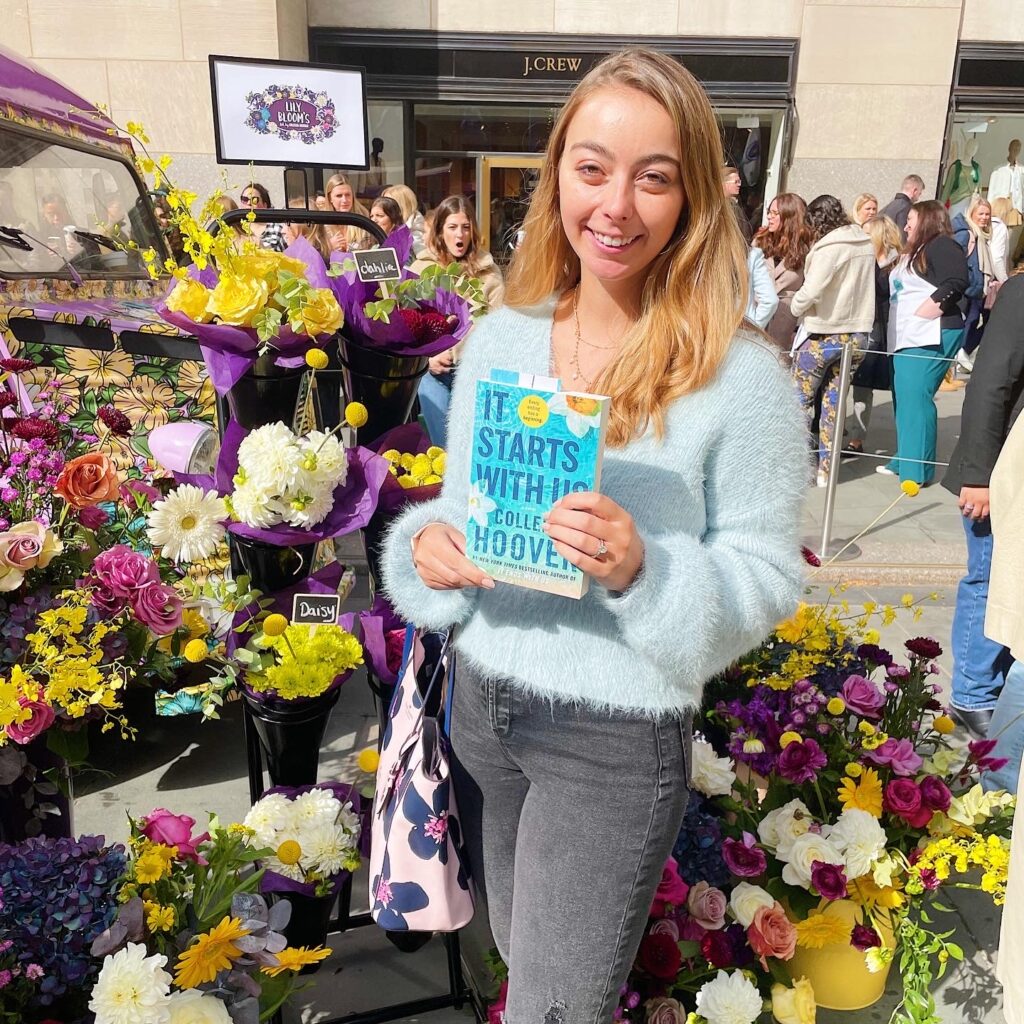 Get My Look: Lovers & Friends fuzzy blue sweater (Sold out, but similar linked here); Straight leg distressed black jeans; Kate Spade flower shoulder bag (Sold out, but similar linked here); Gold and pearl chain necklace
It is incredible to see an author develop such a strong, cultish following. Including fans who traveled to NYC for just one day to come to the event! It's so exciting to go to an event like this and snag her signature. While she wasn't there, her people certainly were! Even though the book has only been out for a few hours, rave reviews are starting to roll in. I'm sure this will be added to my list soon. It Ends With Us was the best book I read in 2021. Leave it to CoHo to publish another just in time for the end of 2022!
---