This Smart Fragrance Device Will Keep Your Home Smelling Like Fall All Season Long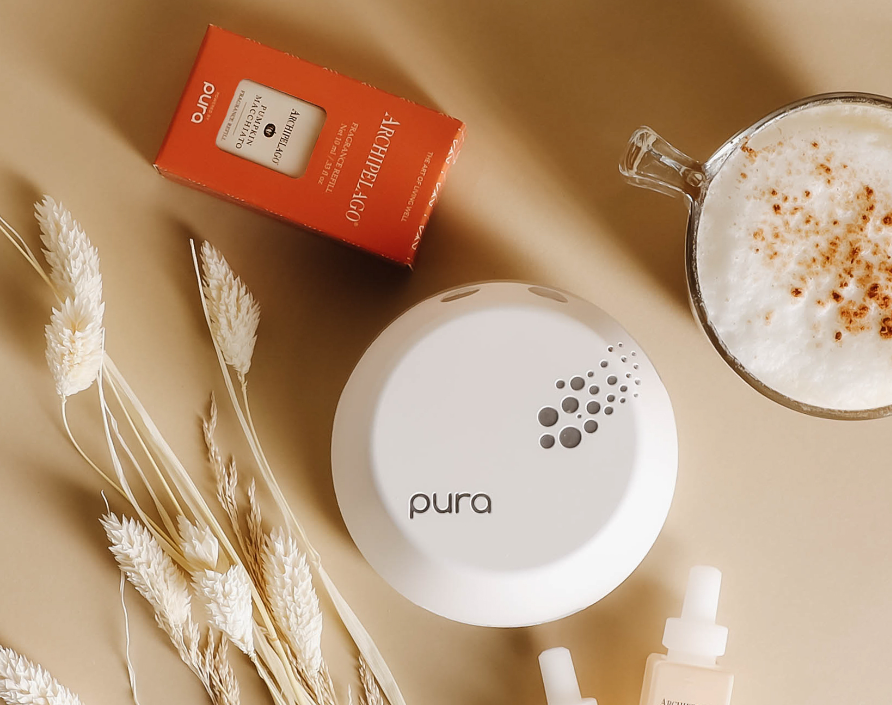 Wall scent plugins aren't new, but the smart fragrance device is! When it comes to making sure my apartment smells fantastic, I've always gravitated towards candles and room sprays. They're options that have that set it and forget it capability. You light the candle and let it burn for a few hours, or you spritz a couple rooms for a quick atmosphere change. But as easy as those traditional home scent options are, they're missing an element of customization. Plus, you'd have to be home to physically turn them on. That's why I was so impressed by the Pura Smart Fragrance Diffuser. It has the ability to personalize everything about the home scent experience from the convenience of my phone.
What is the Pura smart fragrance device?
The Pura Smart Fragrance Diffuser brings home customization to the next level. The device is a luxury of phone-controlled convenience that you didn't know you needed. The device work with a delightful assortment of luxury fragrances. Seriously, think industry leaders like NEST, Anthropologie, Capri Blue, Homesick, and Apotheke. Scents include seasonal options like Thymes Simmered Apple Cider and NEST Pumpkin Chai. Endless options help switch up your home atmosphere along with the seasons.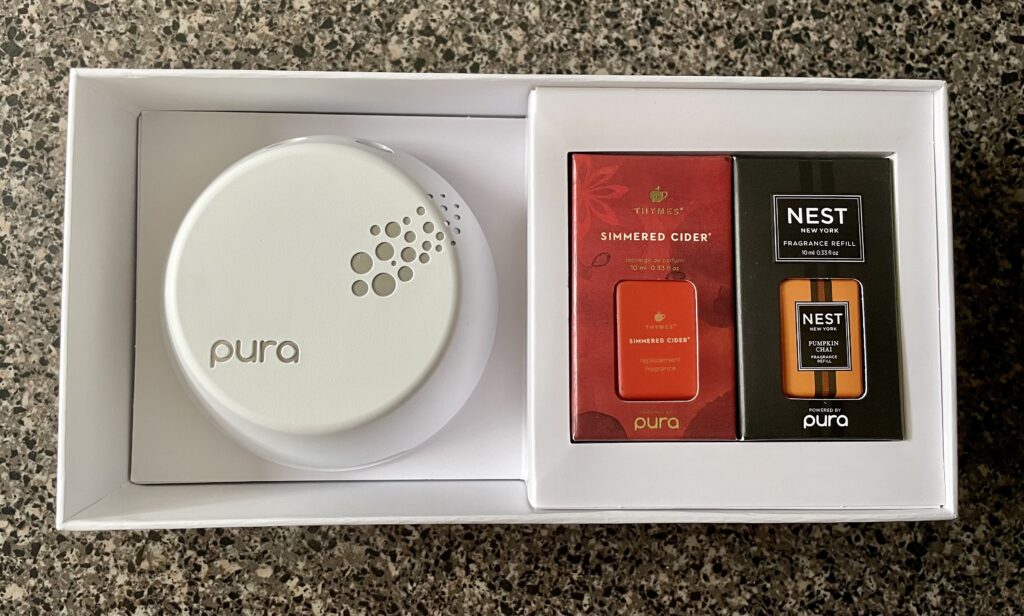 I had the chance to connect with the Pura team in Soho, celebrating the diffuser's new seasonal fragrance pairings with a pop up shop that shouted all things fall. Pumpkin Spice Lattes, and the low-down on all things luxe fall fragrance. The pop up had a line down the block and was open for two days of fun. The team also hosted a VIP event at night where I got to learn more. You all know that I don't drink caffeine – but I do make exceptions for the delicious drinks that pop up during the colder months! In full transparency, I was wired after drinking just half of the latte!
I love popups like this because they bring the best of brands and product launches to people shopping on the street already! It's definitely nice to be able to cover events from a media perspective, but I also love being able to chat with other people in line to get their take on the brand or product too.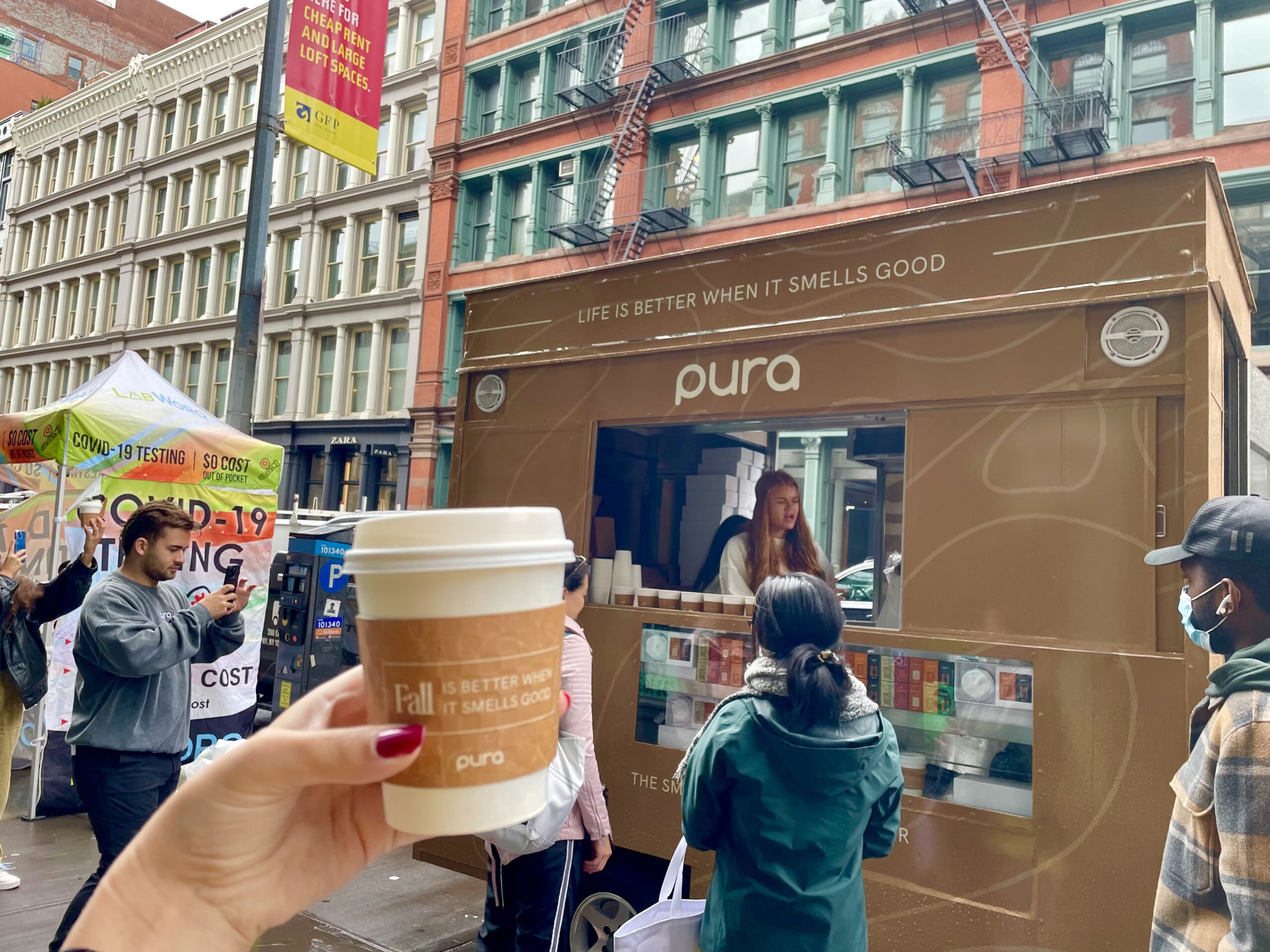 Get my look: Madewell chunky knit sweater (sold out, but linking to a similar one here!), Abbey Glass hammered gold rectangle earrings, Essie glossy shine finish nail polish in 'Big Spender'
So, how does the smart fragrance device work?
Once you take it out of the package, download the Pura app to your phone and connect the diffuser to Wifi network. Once connected, you'll be able to select your scents. Each Pura smart fragrance device can hold two fragrance vials at a time. Note: This does not mean they have to be the same! Because this is a smart device, you're able to pick which one diffuses at what time. You can do this because each fragrance vial has a QR code on the back that you can scan into the app. This way your device will know which fragrance is which.
Once your fragrance vials are in the smart fragrance diffuser, you can set up all the customizable options on the app. You can choose everything with the click of a button. From which fragrance to diffuse to how potent you want the fragrance to diffuse. So if you just want a super light background scent, you can make that happen. If you want to blast all things fall and pumpkin, you can do that too! This is probably my favorite thing about the diffuser – you can pick the scent intensity. It's something you don't have the luxury of doing with any other home scent item!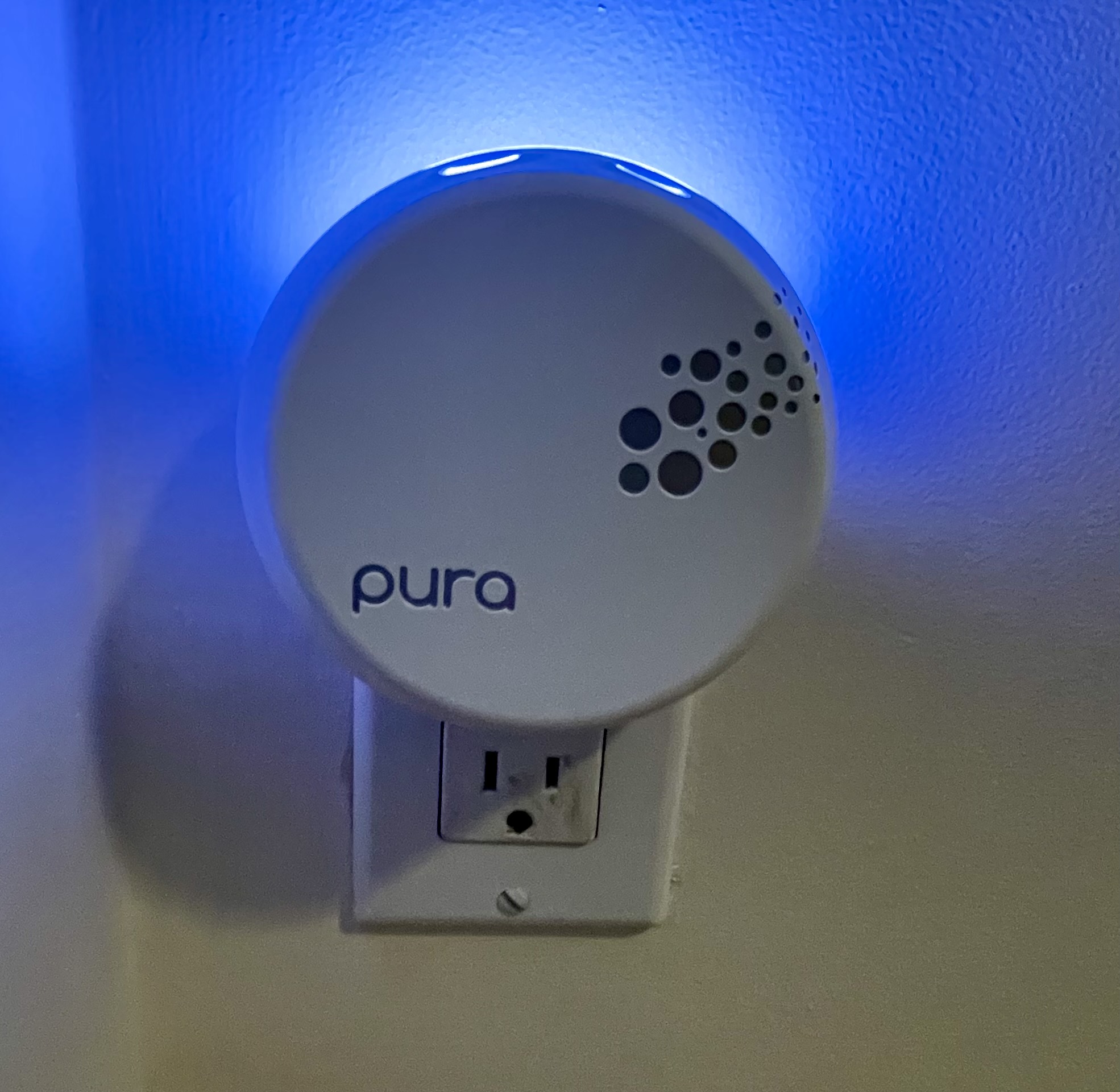 Once you play around in the app, you start to understand just how much you can personalize your home scent. There is literally a calendar in the app where you can schedule which days and times you want a specific fragrance to diffuse into your home! As someone who is already very type A, this is something that thrills and scares me at the same time. It's a great offering because fragrance is so intensely intertwined with memory. There might be a weekly ritual you'd like paired with a specific scent each week. You might want to schedule a fragrance to be diffusing while you're commuting home from work so you walk in to a scent that helps you relax. When you think about it this way, the options are endless.
If you've tried the Pura Smart Fragrance Device I would love to hear how you use it to optimize your home fragrance experience! Even when its not diffusing, I love the nightlight function so I keep it plugged in. It's kind of a two in one device in that way too. This was the perfect thing to perk me up as the weather starts to get chilly. I find the best way to deal with the changing of the seasons is to welcome them into your home!
---