Celebrating Billion Oyster Project with Villa Maria Wines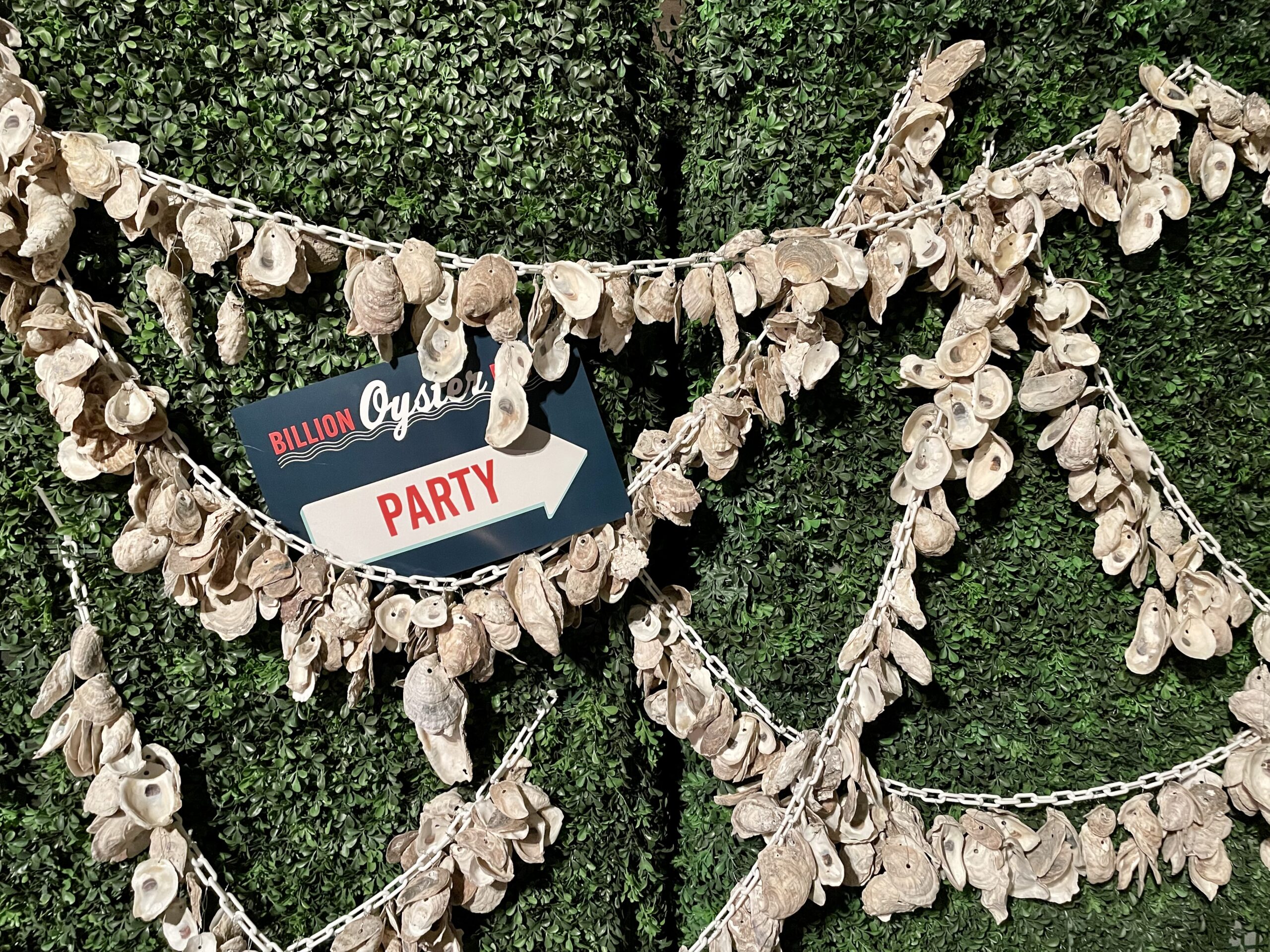 Did you know eating an oyster is the same as eating a superfood? Practically a delicious juicy vitamin blend sitting on the half shell, eating oysters can help with bone health, weight loss, and boost your mood all in one slurp. Oysters are packed with vitamins like B12, Iron and Zinc. Not to mention they're a low calorie and high protein snack. With so many nutritional benefits, not to mention the delicious and varying flavors these shellfish provide, it's no surprise to find the Billion Oyster Project's annual Oyster Party event was sold out this year. The party featured oysters from more than 50 affiliated farms across the country – everything from kumamoto oysters to beaver tails, spanning farms from coasts across the country.
Oysters are not only healthy and delicious, but they have greater benefits to their ecosystem too. Oysters work as barriers that protect areas from storm damage and flooding. Oyster reefs soften the blow of large waves on the shoreline, and prevent erosion as a result. In New York City, a place surrounded by water, oyster reefs are vital to the sustainability of our way of life so that we can continue to enjoy our waterfront parks and neighborhoods for years to come.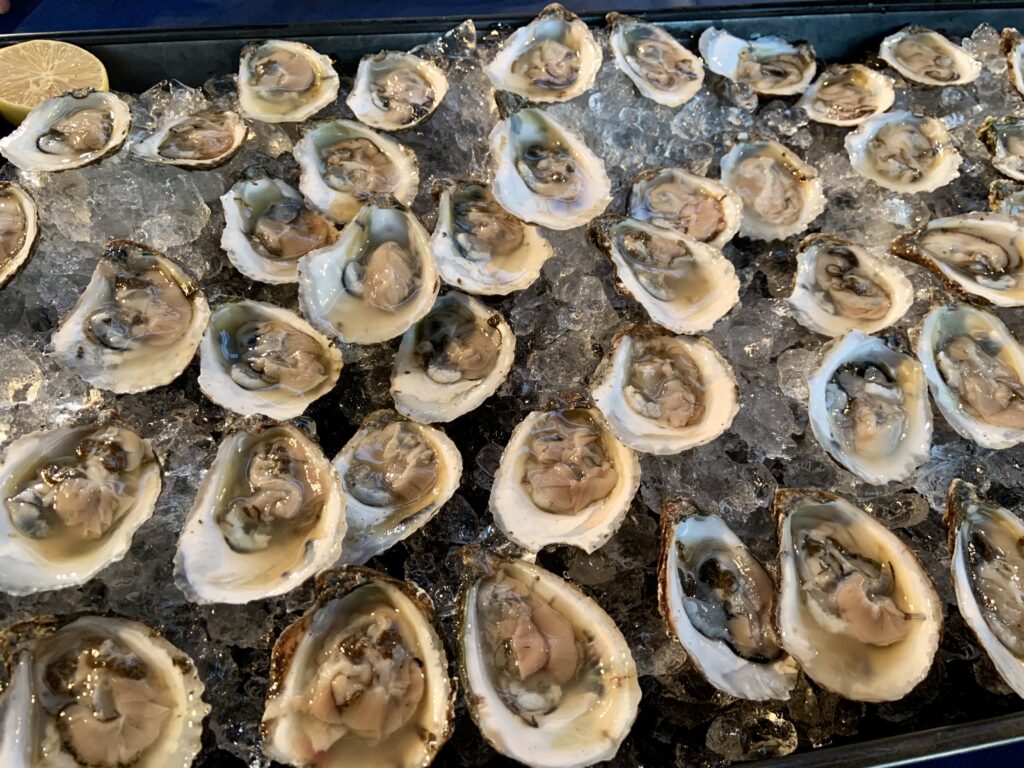 The Billion Oyster Project is a nonprofit whose mission is to restore oyster reefs to the New York harbor in collaboration with NYC communities and volunteers. The organization collects used oyster shells from partners all over the country – including all of those present at the event, which had an impressive waste collection system with buckets specifically for shells, and all other single use items being fully compostable. Shells are then brought to Governor's Island, where they are left out for about a year before they're ready to become home to new oysters, which are then placed back into the harbor on an oyster reef. The organization completes about 100 million oyster transfers in a year, and is on the way to approaching their billion oyster goal.
Before heading to the event, I was not convinced that I was an oyster fan. I'd heard of some of the benefits – probably the most popular rumor being that they were an aphrodisiac, but I wasn't convinced they were for me. I went into VIP hour with an open mind and empty stomach, ready to try whatever crossed my path. After a few stops at different tables, I finally found the farm that showed me all that oysters could be. From there, I fell in love.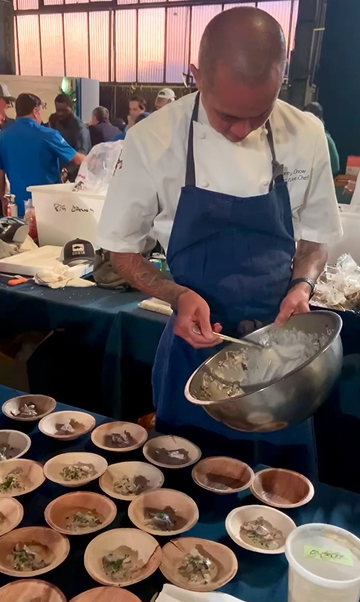 The amazing thing about going into an event like this was how green I was about everything oysters. I was able to be exposed to so many different varieties and learn from a lot of different farmers. I heard about the impact of the oyster shell collection program on different communities, and even spent some time chatting with The Stanwich Club's executive chef Corey Chow who was attending from Greenwich, Connecticut. Chef Chow made one of my favorite dishes at the event, oyster mushrooms with an oyster aioli. He explained to me that Connecticut doesn't yet have a streamlined composting system and he was looking for a way to use the shells instead of simply discarding them. He realized the shells, even when empty, still held a ton of flavor. With creative trial and error, Chef Chow was able to create an oil from the oyster shells, which he let me sample at his table. This oil tasted dreamy and soft, like a cloud.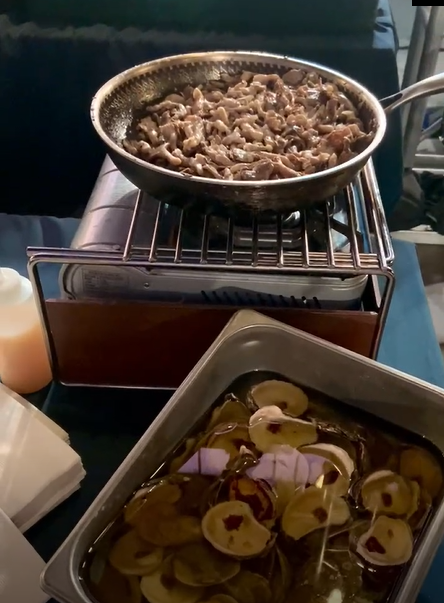 While food was certainly at the forefront of the oyster party, it was certainly complemented by the open bars set up in the different corners of the room. Billion Oyster Project works with sustainability partners and sponsors that help them make their mission a reality. One of these pivotal sponsors is Villa Maria Wines. Villa Maria is a winemaker located in New Zealand. The company crafts incredible bottles of pinot noir, rose, and my personal favorite – a sauvignon blanc with gorgeous tasting notes of golden pear. Villa Maria is known for their incredible wines, however their commitment to sustainability is notable as well. Not only do they partner with nonprofits across the globe – like Billion Oyster Project and The Bee Conservancy – but they are also working towards more sustainable wine creation, tracking towards zero waste and reduced carbon emissions. It was amazing to see such a prominent brand take a stand for the environment at this event, and is something the industry should take note of and be inspired by.
Throughout the night, I stopped by the Villa Maria bar quite a few times, finding that no other drink compared to the pairing of their sauvignon blanc and the incredible seafood tasting in front of me. While I may not keep oysters stocked in my apartment, I know Villa Maria's sauvignon blanc will certainly become a wine rack staple.
Thank you so much to Villa Maria Wines for inviting me to this amazing event! xx
---