Healthy Coconut Chocolate Chip Protein Cookies (GF // V)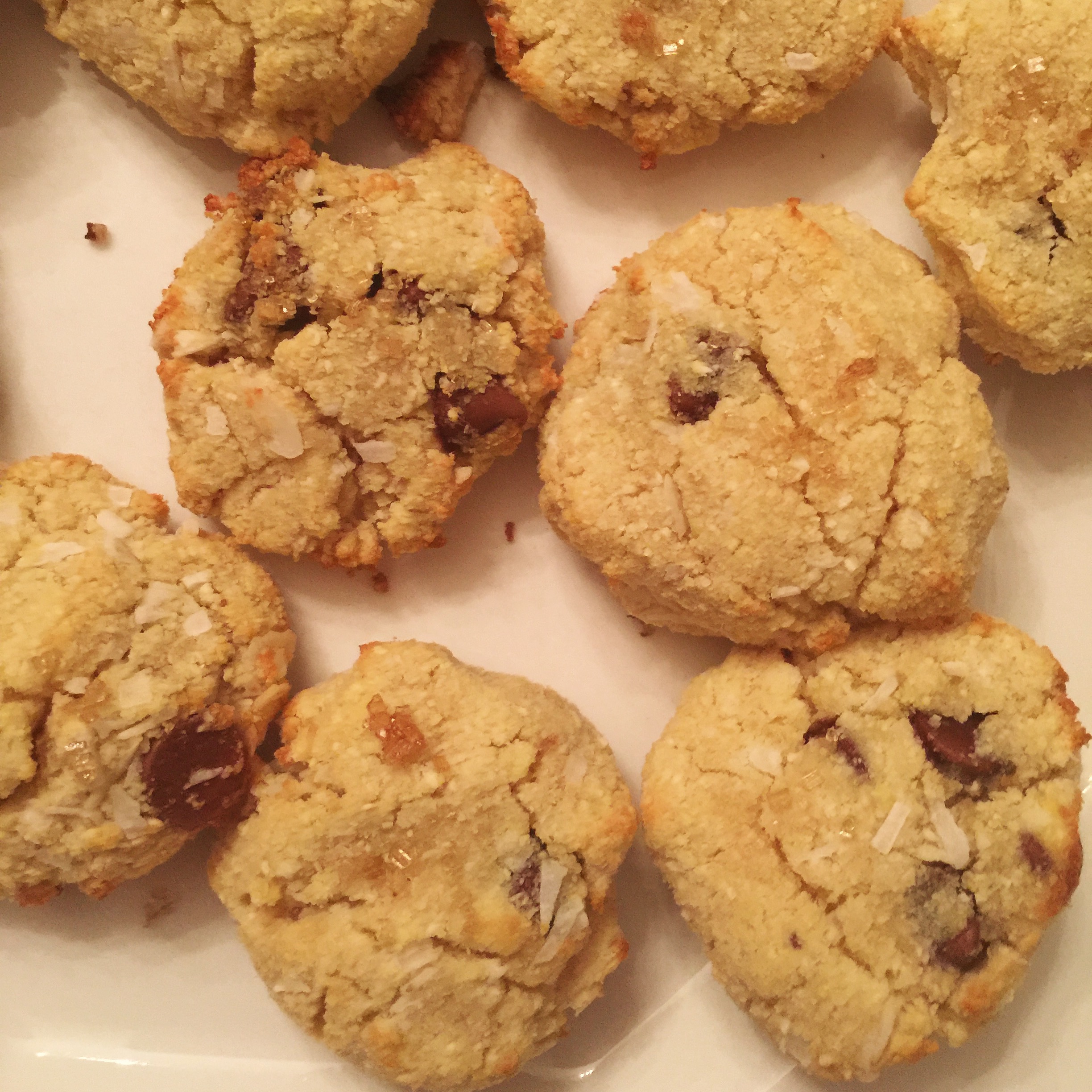 Over the next few weeks you'll see an influx of gift guide recommendations and reviews from me, first-hand details from what I've seen at holiday previews held by awesome brands like Barnes & Noble and Staples, and delicious recipes (like this one!) that look good, taste good and are actually good for you! I posted pictures of these cookies to my Instagram story and a lot of you asked me to post the recipe. Because the cookies are really yummy and healthy – I've decided to indulge you with my own recipe creation!
It's truly wild how quickly this past year has gone by. You blink once and find that somehow it is already December! New York City has been lit with holiday lights, festive parties and tree lightings throughout the city for a few weeks now. The big Rockefeller Center Christmas Tree has been lit and the Saks Fifth Avenue windows have been unveiled. Now it's time to think about the hard stuff – Christmas is just a few weeks away, and it's time to start prepping and planning your gifts and menu.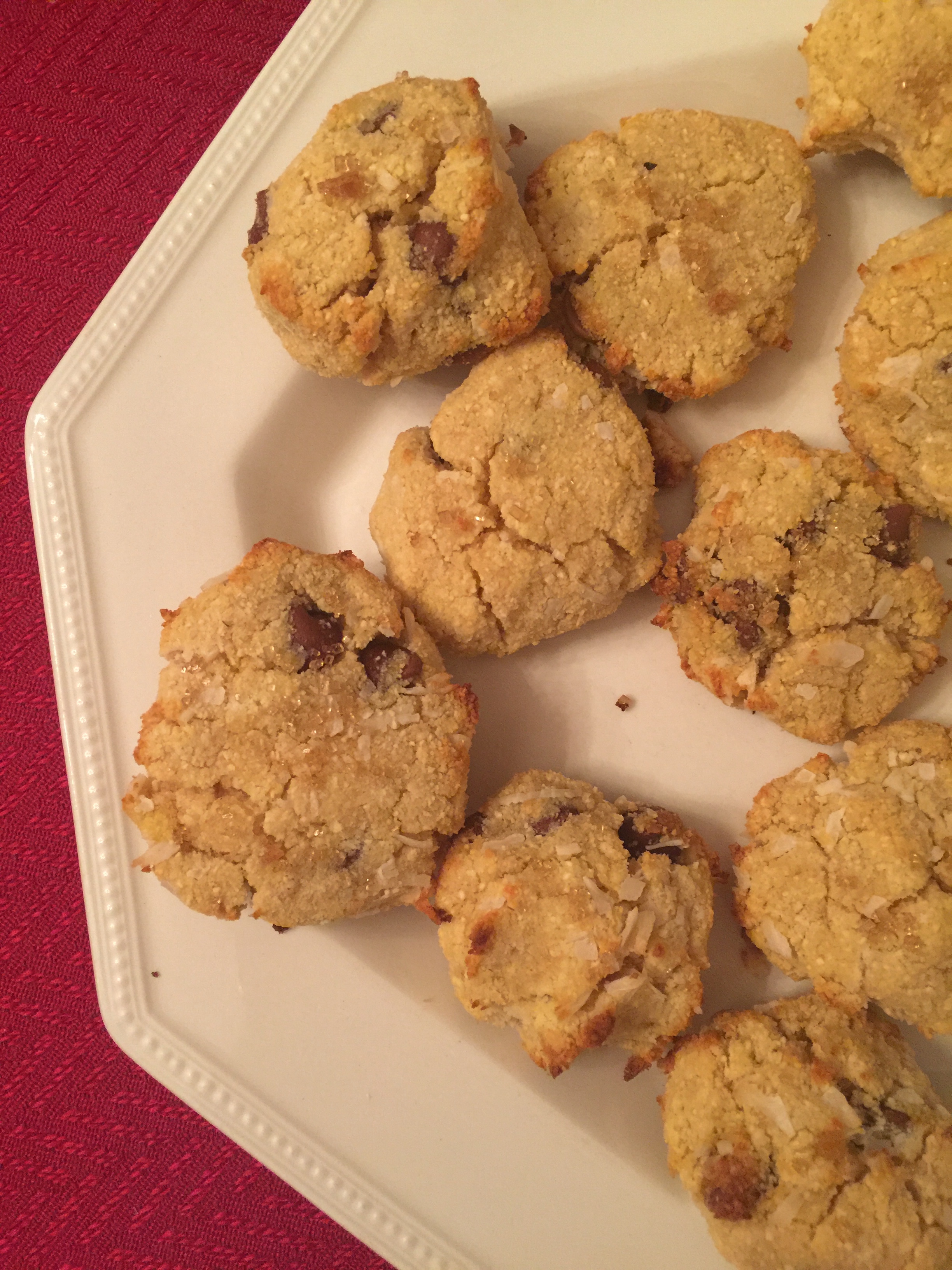 Amidst holiday cheer – which inevitably comes with a side of holiday tummy bloat – you should give yourself a break and treat yourself to dessert. These cookies come out nice and chewy. They are gluten free and get an added protein boost from the coconut flour – not to mention a yummy nutty flavor! The applesauce makes them fluffy and vegan and the chocolate chips take it home with that delicious rich layer of flavor.
And the BEST part? You can eat them for breakfast, totally guilt-free! The plant-based protein will keep you fuller for longer and studies have shown that eating something sweet at the start of the day reduces cravings later on. Bonus points if you use dark chocolate chips. 😉
Keep reading for my Gluten Free Vegan Coconut Chocolate Chip Protein Cookie recipe!
Healthy Coconut Chocolate Chip Protein Cookies (GF // V)
Let's Get Started:
2 cups organic coconut flour
½ cup sugar (feel free to lower the sugar to ¼ cup, it tastes just as good, or sub in some maple syrup for healthy natural added sweetness)
3 eggs (to make this vegan, sub in 3 Neat Eggs)
½ stick of butter (to make this totally vegan, sub in 1 1/3 cup applesauce instead)
2/3 cup applesauce
1 tsp baking soda
1 tsp organic vanilla extract
1 cup chocolate chips
½ cup coconut flakes
Let's Get Baking:
Preheat the oven to 350•. Spray cookie sheets with coconut oil (or olive oil). Mix together coconut flour, sugar and baking soda. Combine with eggs, butter, applesauce and vanilla extract. Once the mixture reaches a dough-like consistency, add chocolate chips and coconut flakes to the creation. Drop on cookie sheets in teaspoon sized balls and bake for around 10 minutes, or until the bottom begins to turn golden brown. Let cool and enjoy!
Let's Get Creative:
If you're in an extra nutty mood, some chopped walnuts or almonds would be delicious in these cookies!
Stay Classy! xx
---