I Stayed Overnight At A Luxury Treehouse Resort – Here's My Review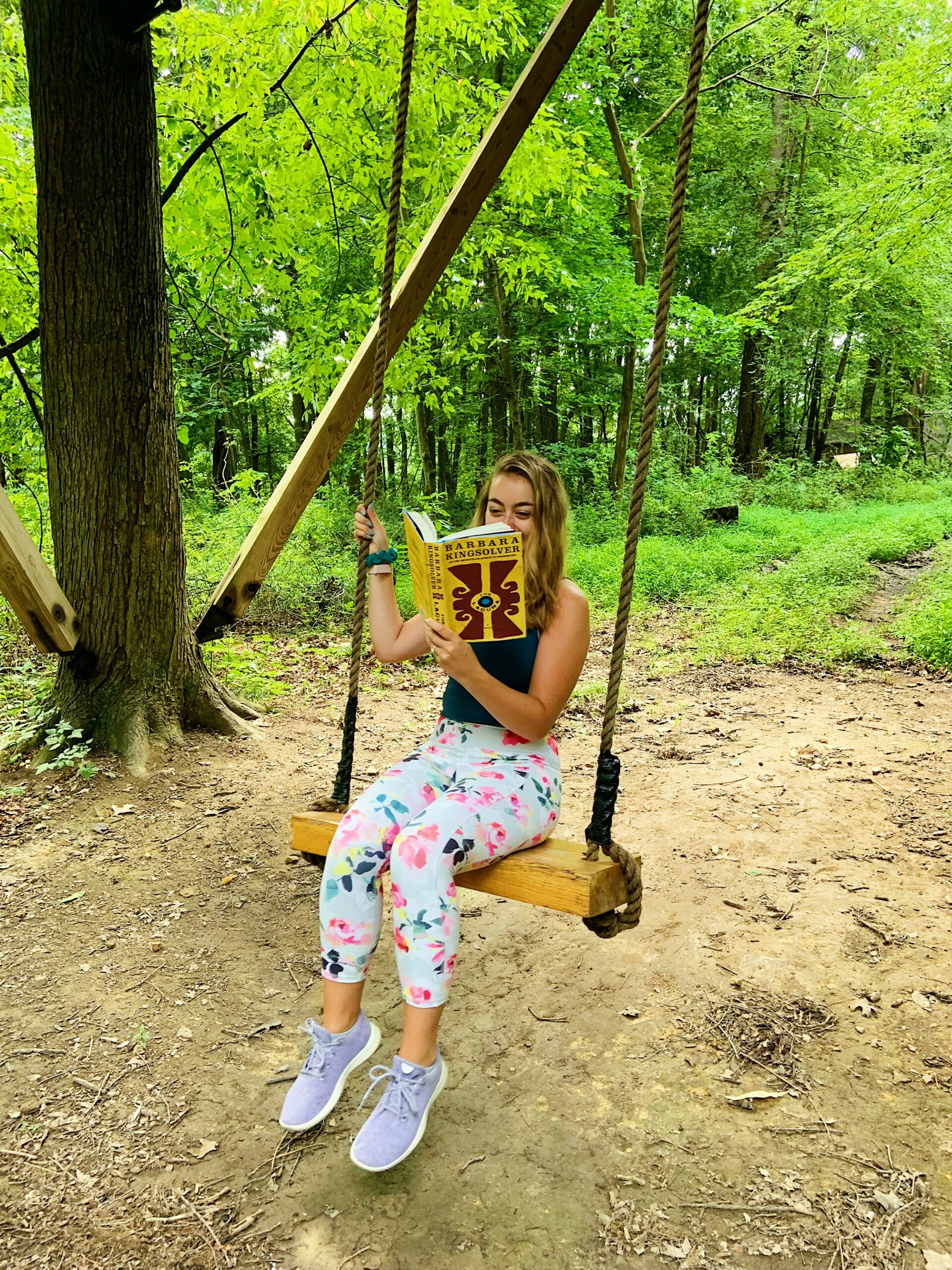 It feels like yesterday that I was doing research for an article about glamping destinations for Well+Good. I sourced pictures of the dreamiest cabins, yurts, and you guessed it – a luxury treehouse resort. Little did I know that a few years later, I'd have the opportunity to stay in not one, but two luxury treehouses and try the glamping experience out for myself. I had no idea how much I'd love it.
Ever since the pandemic started, getting back into nature has been important to me. Nature is a place of beauty, solitude, and a place where you can go and really relax and think. Growing up, the part of nature I'd experience most frequently was the beach. I still love the experience of lounging on the sand and splashing in the waves, but I've also since expanded into exploring the woods – going for hikes and experiencing the natural world in a more remote way. Despite all of this, I'd never thought camping would be for me. I won't fully knock it until I try it, but tents and sleeping bags sound fun to me when they're inside away from bugs and close to running water. This, in fact, was what made me the perfect candidate for glamping at The Mohican Treehouse Resort in Ohio.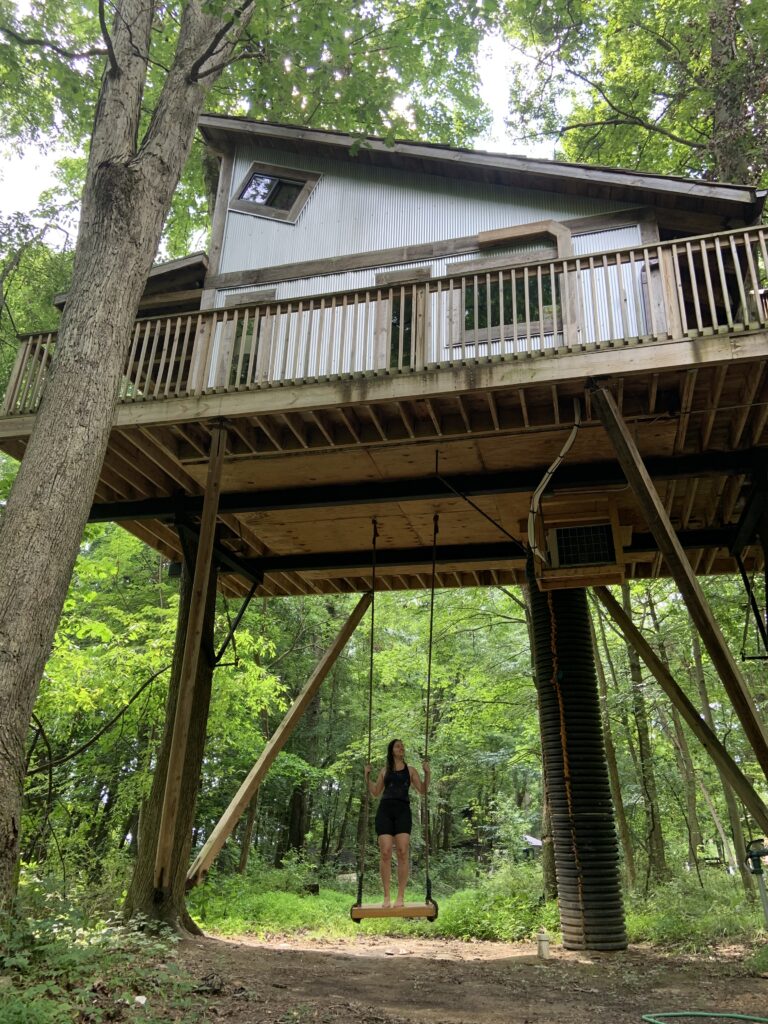 Get the looks: Cropped tank; Capri workout leggings; Allbird sneakers; Lacuna by Barbara Kingsolver; Workout tank top; Bike shorts with pockets
When the resort reached out to me and we discovered they had availability when I'd be in town visiting my sister I was excited, but also initially a little hesitant. It would take me out of my comfort zone. It was in a remote area of the woods and it would also be a digital detox – the resort didn't have WiFi or internet access and cell service was sure to be spotty. Looking back, my hesitancy seems almost funny, because these were some of the highlights of the trip, and looking through the guest books in each treehouse I found that others who had stayed there would agree.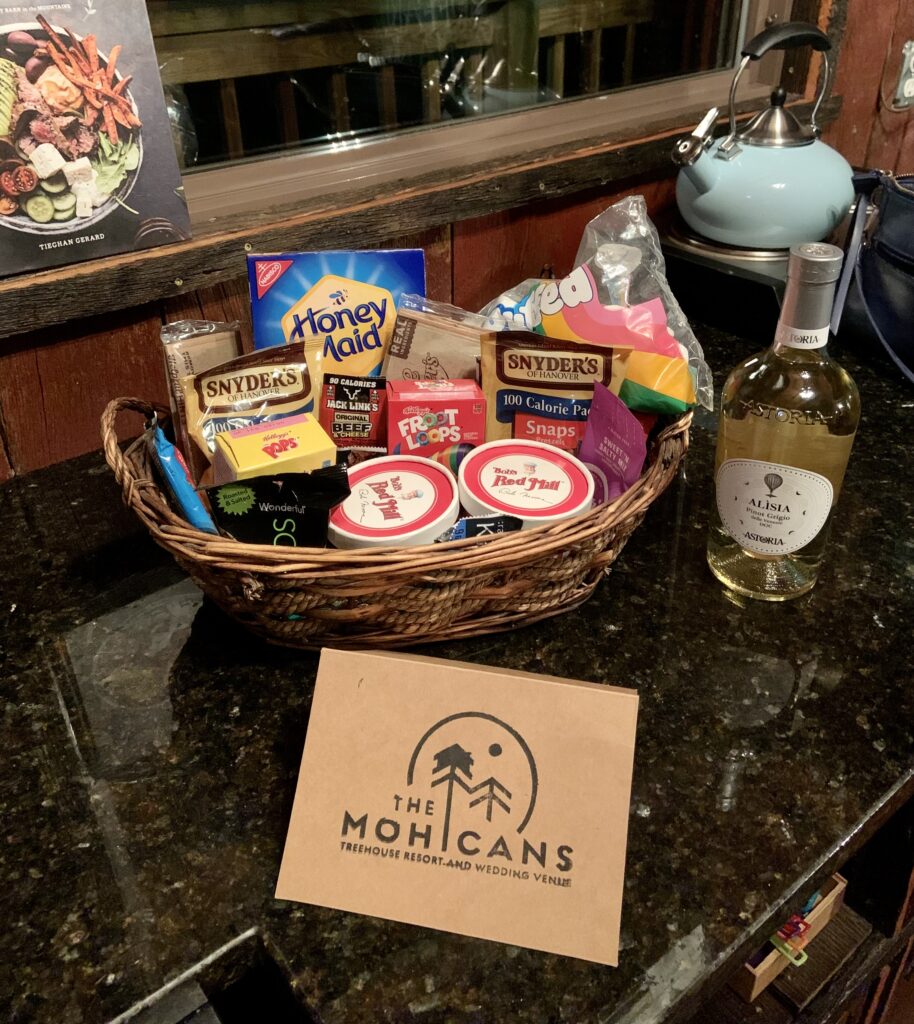 All the glamping essentials! Grab them here: Graham crackers; Hershey bars; Marshmallows; Popcorn; Pretzels; Granola bars; Corn Pops; Fruit Loops; Bob's Red Mill Organic Oatmeal; Trail Mix
If you think about it, right now there are very few moments where you have the chance to be totally disconnected from the rest of the world. With the tap of a screen, we have our email, social media, texts, calls and more at our fingertips everywhere except a plane with unreliable WiFi. Even so, it is so important to take those moments to recharge without so much else in our ear or on our screen. Having the chance to do this with my sister who I hadn't seen in months was such a blessing. We built a fire and sat under the navy blue sky and sprinkling of stars listening to the soft natural sounds around us. We were able to talk and catch up without distractions. We were also able to embrace the beauty of quiet and spend our own time reflecting on a beautiful property completely surrounded by nature.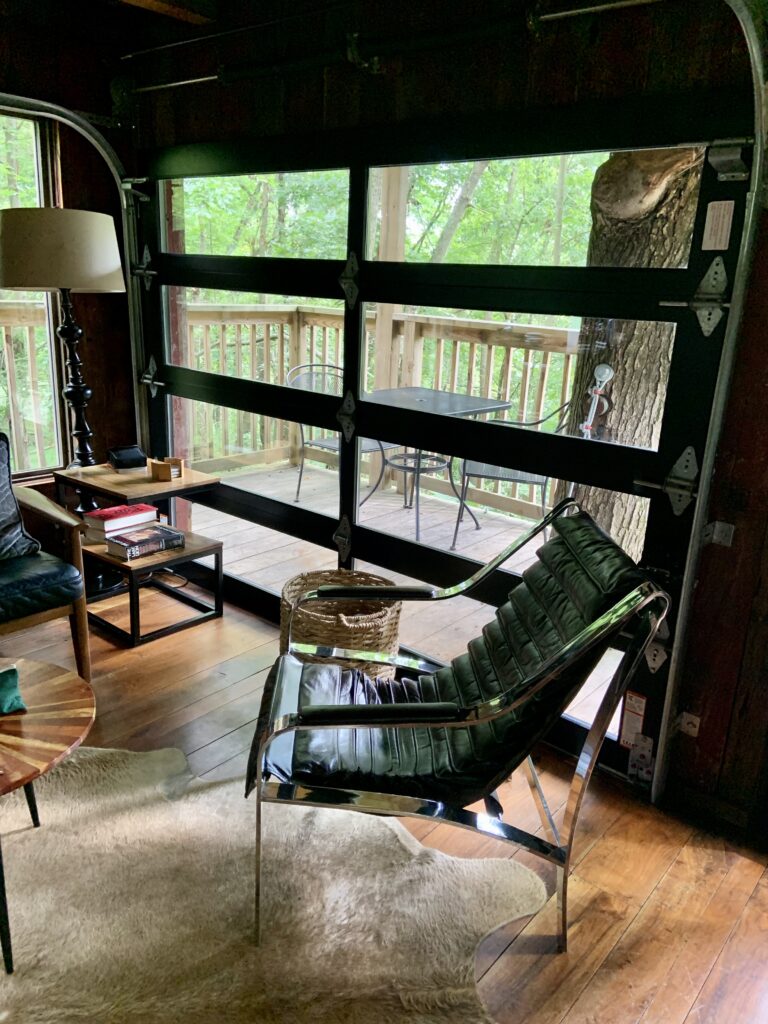 Tori, my sister, lives in Cincinnati. The Mohicans Treehouse Resort was about three and half hours outside of the city, so we had planned to leave before 5:00 to make sure we got there in the daylight – unsure of how tricky it would be to get around in the dark without service when we didn't know where we were going. The drive ended up being relatively uneventful and pleasant. We drove into Loudonville, Ohio – the town that houses the resort – during sunset and were able to see the majestic colors change over beautifully plowed and planted fields of corn and squash. Soon enough, we found ourselves turning onto the gravel-pathed road with a sign for The Mohicans and after a wrong turn into another section of the property that was home to a handful of other treehouses, but not ours, we finally pulled up to this beautiful structure we could call home for the night – the Tin Shed.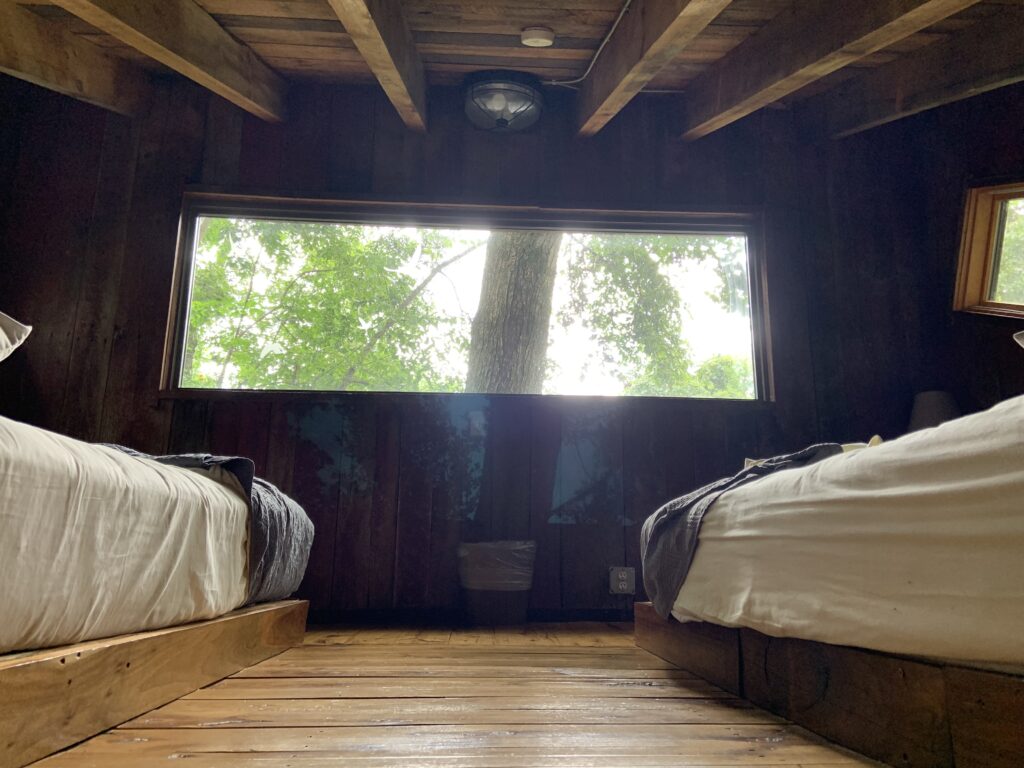 A quick unloading of the car and tour of the house later, we attempted to build a fire outside but exhausted and in the dark we couldn't get it to start. The wood had been wet from rain the day before, and on top of that we heard a low growl coming from the woods behind us and that was enough to send us back indoors. It wasn't until we were sitting back in the living room, relaxed with wine in our hands that we were able to fully appreciate the reclaimed beauty of the treehouse. Everything in the treehouse was made from repurposed materials – the architect had been pulled in to complete the project which was then featured on Animal Planet's 'Treehouse Masters' show. Because of this, one of the walls in the living room was literally a repurposed garage door – painted black and with big glass windows in the panels. The treehouse was full of windows so in the daylight you could really feel like you were among the trees. The other spotlight of the Tin Shed's living room was this stunning coffee table made from reclaimed wood – I found myself wishing I could buy one for my own apartment and after posting a picture of it to Instagram, it turns out so many other people do too!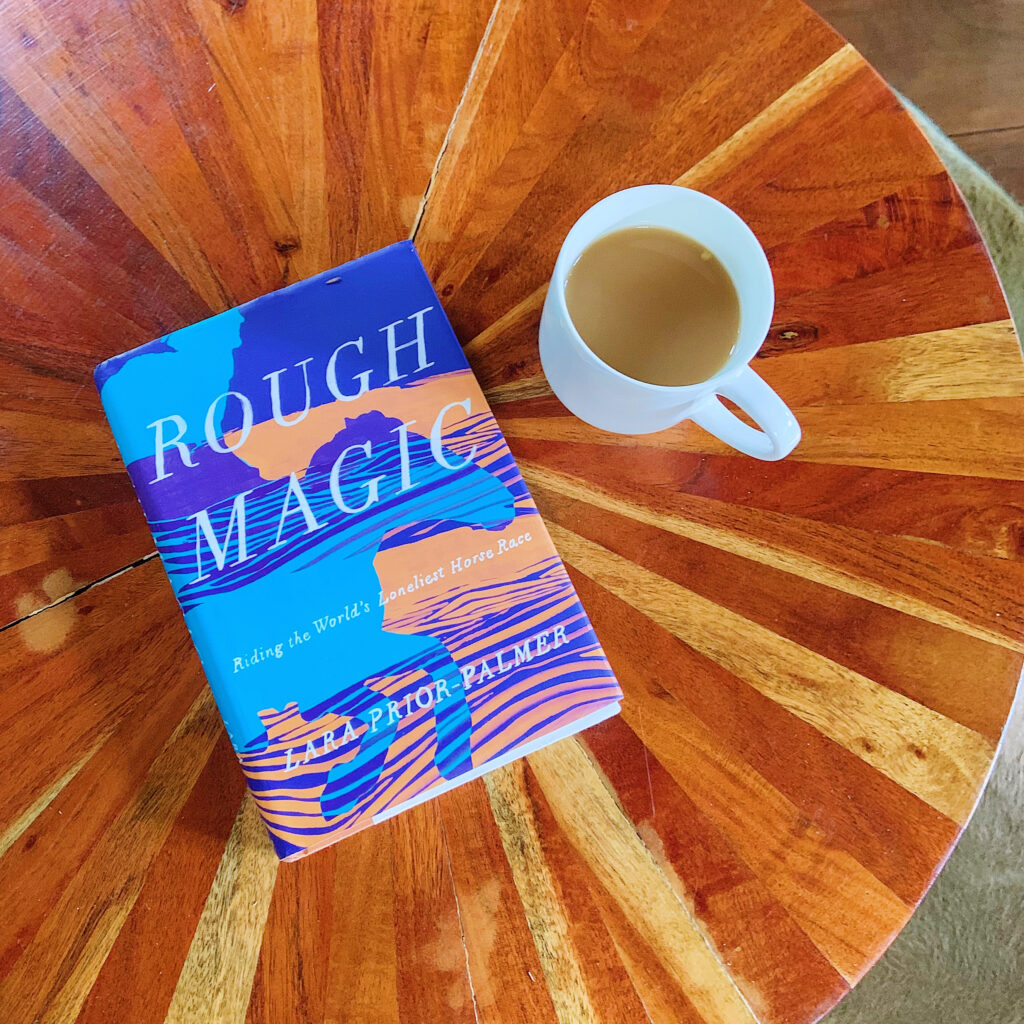 Get the book: Rough Magic by Lara Prior-Palmer
Sleeping that night was a crazy experience. No where, not even when staying in my fiancé's childhood home in upstate New York, have ever 'heard' such quiet. The treehouse resort was truly nestled amongst the woods. It was the lack of noise that kept me awake, in awe of the difference from my normal Brooklyn apartment. It was in this first night that it really hit me how much of a unique and beautiful experience this was going to be…
Continued in Part II! xx
Thank you to the Mohican Treehouse Resort & Wedding Venue for the wonderful stay! Though my stay was fully compensated, all opinions are my own.
---