Why You Should Add Vitamin E To Your Summer Skincare Routine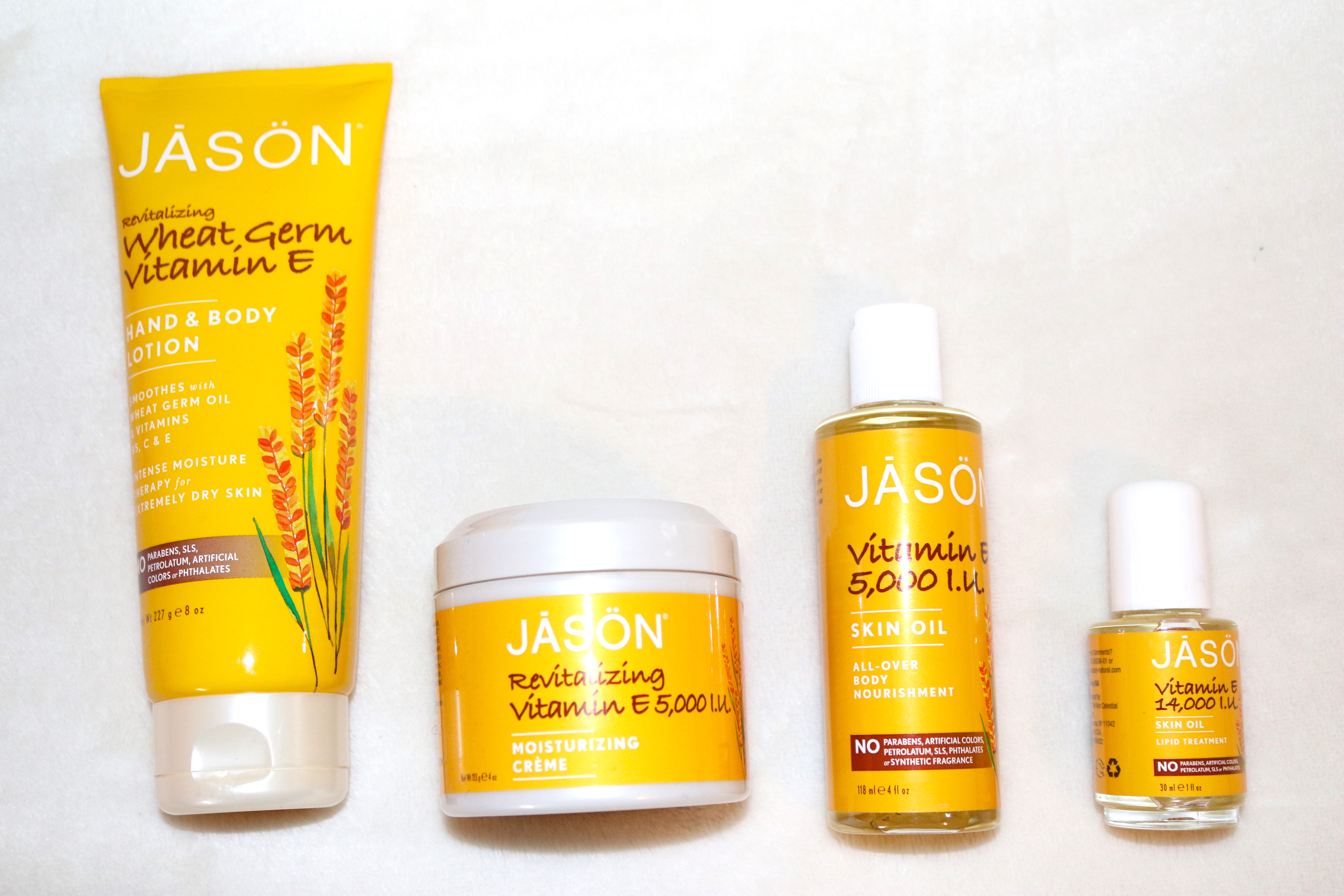 If Memorial Day Weekend marks the official start of summer, then you might already be spending more time outdoors, soaking up some sun and enjoying all the perks that the season has to offer. As with the changing of each season – just like spring cleaning and swapping out your heavy clothes for lighter ones – it's a reminder to switch up your beauty and skincare routine as well. You might be thinking that switching up your beauty and skincare products every few months is wasteful, especially if you haven't finished them yet, but many products and especially products made with more natural ingredients expire just after a few months. Think of this makeup bag swap positively, it gives you a chance to try out new products and helps you make sure that you're not lathering your body with expired creams and serums.
One skincare collection that I'm already loving this summer is Jason's Vitamin-E infused line. Sold in moisturizer, hand and body lotion, body oil and serum products, the collection is meant to moisturize and promote skin elasticity. The vitamin E-infusion has been known to reduce the appearance of wrinkles and scars, making it easier to go au naturale this summer after applying a bit of sunscreen and moisture to your face and body.
Before I get into all of the amazing ingredients that are in these products, I want to note that they are totally paraben-free, silicon-free, phthalate-free and free of artificial colors. But of course, I wouldn't be recommending them if they weren't 🙂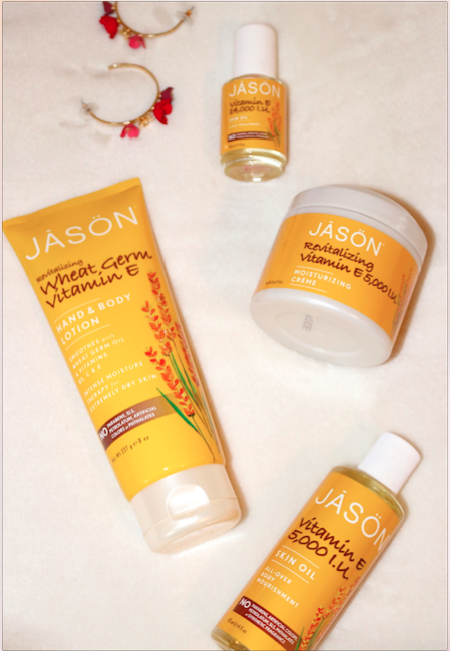 In addition to vitamin E, the products boast an impressive list of natural ingredients:
The skin oil incorporates almond, apricot, avocado, sunflower and wheat germ essential oils, which give the skin an extra-soft feel.
The lipid treatment oil (the smaller oil pictured above) is formulated with vitamin E and avocado oil to be applied to extra dry areas of the skin, including cuticles, knees, elbows and heels – which definitely comes in handy when you want to wear cute shoes and haven't had time to get a pedicure.
The hand and body lotion combines wheat germ oil with vitamins A, B5 and C to replenish lost moisture and promote skin resilience and elasticity.
And the revitalizing moisturizing cream uses a combination of all of the above ingredients to rejuvenate your face and body by moisturizing, providing elasticity and giving it an extra vitamin boost during the months when sun damage occurs most frequently. This is currently my go-to morning and night face cream, and I'm loving it!
Stay Classy! xx
---
Jason Revitalizing Moisturizing Cream retails for $14 here / Jason Hand and Body Lotion retails for $11 here / Jason Lipid Treatment Oil retails for $5.50 here / Jason Skin Oil retails for $12 here / Neiman Marcus Floral Hoop Earrings retail for $100 (but they're in-stores only, so I'm linking to a similar pair from Anthropologie that retail for just $30)
---