Homemade Slow Cooker Applesauce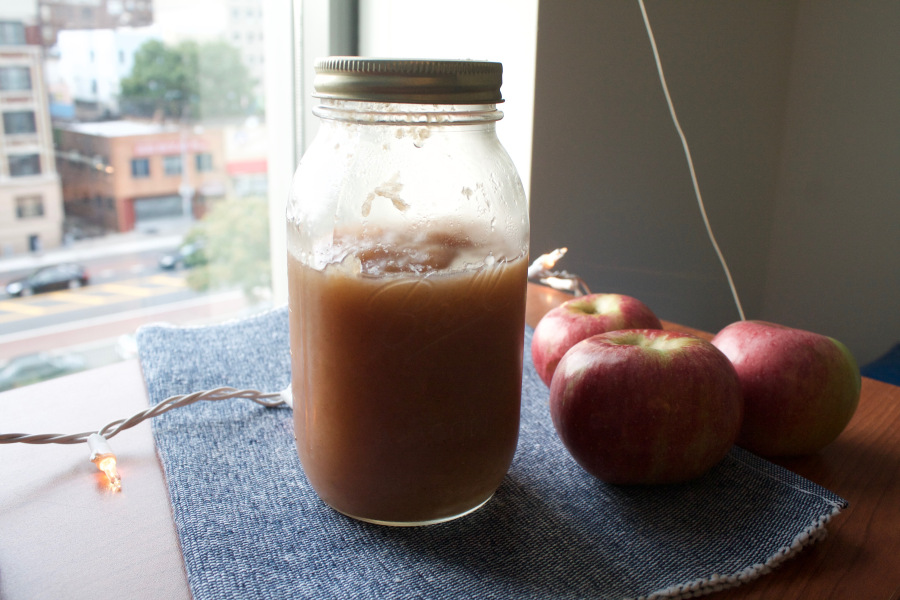 This past week has had the coolest weather NYC has seen in a while. The leaves are starting to change and it's finally time to break out the sweaters, denim jackets and leggings… all the leggings!
I've already seen a shift in my food cravings go from lighter and colder refreshments, to more hearty and warm meals. It's not surprising that I've found a healthy way to satisfy these cravings with some leftover apples that I picked a few weeks ago upstate!
This delicious homemade slow cooker applesauce is the perfect snack, side dish and even dessert. It uses only the freshest and minimal ingredients, but yields a creation so good that you'll have to stop yourself from eating it all in one sitting.
Homemade Slow Cooker Applesauce
Prep Time: 15 Minutes     Cook Time: 4 hours     Total Time: 4 hours 15 Minutes
Let's Get Started:
6 large apples (any kind!), cored and peeled
2 cinnamon sticks (or 2 Tbsp of ground cinnamon)
1 Tbsp lemon juice
1/2 cup water
1/4 tsp salt
Let's Get Cooking:
Peel, core and chop apples into 1-2 inch pieces. Combine all ingredients in slow cooker and close the lid. Cook the applesauce on high for 4 hours, stirring occasionally. Cool and store – it will stay up to 5 days in the refrigerator or freeze up to 3 months.
Let's Get Creative:
This recipe makes the applesauce slightly chunky (which I prefer)! But if you're into a more smooth texture applesauce, after it's done cooking let it cool and then put it into a blender or food processor to get your desired texture.
Stay Classy & Enjoy! xx
---