Cygalle Gold Leaf Kinetic Facial
Getting through fashion week in one piece takes a huge toll on your sleep and beauty regimens. When you're running from work to a show to an afterparty and then waking up extra early the next morning (if you do manage to get any sleep) to do a write up about it and create social media posts to showcase your night, it is inevitable that the only thing hurting won't just be your well-heeled feet. You also need to take a moment to let your body and mind recharge.
This fashion week I stepped out of the office for a luxuriously long lunch break and experienced my first Cygalle Gold Kinetic Facial. Cygalle Healing Spa creates and uses only natural and organic beauty products – including an organic chamomile makeup remover that smells and works incredibly. I got pampered on the Rose Hill Rooftop on Upper East Side's Lexington Avenue. The rooftop, alternatively named the Sanctuary of Wellness, was full of wellness stations including non-toxic manicures and an endless supply of Dr. Perricone's new Hydrogen Water line – yes, that Dr. Perricone, whose beauty products are all over Sephora.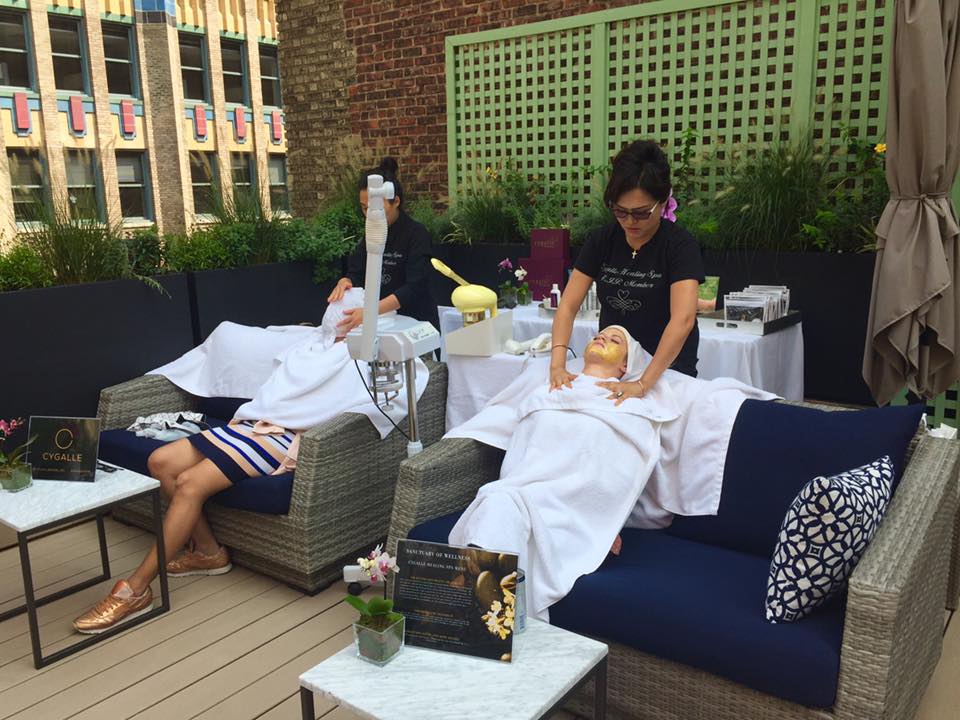 More than anything, the facial was incredibly hydrating and relaxing. I let my skin be coated with a delicious smelling organic mango mask and the dark circles under my eyes to be de-puffed with Cygalle's Gold Leaf Intensive Eye Treatment. The kinetic vacuum felt incredibly cold on my skin, but its purpose is to stimulate blood circulation and help nourish skin tissue – which in layman's terms, means that it helps reduce wrinkles and aging skin.
When I opened my eyes after the treatment I found myself looking up at a view of the Empire State Building and otherwise in a daze. It took me a few moments to get my bearings in my zen state, but when I did, I vowed that relaxing facials would soon become a regular occurrence in my life.
Shop Gold Facial Products Below!

---