Tie Dye Unicorn Popsicles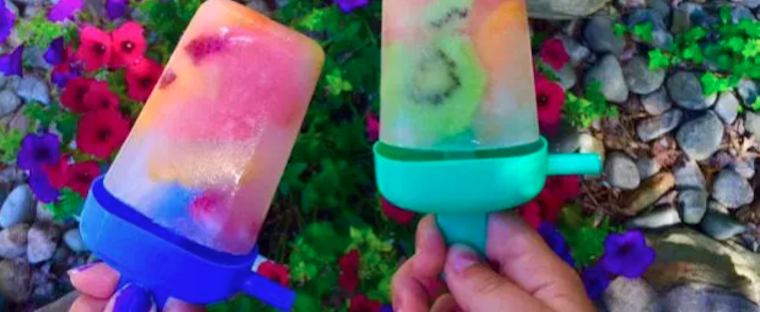 Unicorn food is the food trend right now. In fact, all things unicorn are the new thing. Whether you're trekking down to Brooklyn to get your $9 unicorn latte fix or walking into a Forever 21 during your lunch break to check out the new unicorn athleisure wear and bathing suits and unicorn pool floats – unicorns are everywhere!
Thanks to a combination of the weather *~finally~* warming up and my obsession with all things fruit, (I have a natural sugar sweet tooth to the extreme) I knew that I needed to create an easy-to-make recipe that could satisfy my cravings for healthy dessert and fresh fruit… unicorn popsicles seemed like the only logical answer! 😉
For something that comes out looking so beautiful and delicious, these ice pops really take no time at all to make – you just need enough patience to wait a day for them to freeze properly. I used the fruits I had in my house and next time I'll definitely be adding more. More fruit = more flavor, more color and more nutrients! If you're looking for a simple summer treat that is refreshing, hydrating and totally natural you're going to want to try the recipe below! x
Let's Get Started:
1 cup organic coconut water (I used the one from Trader Joe's below and loved it)
1 peach, peeled and sliced
1 kiwi, peeled and sliced
2 strawberries, sliced
Fresh watermelon, cubed and sliced
Let's Get Cooking:
Place fruit into the molds – use a toothpick to arrange the fruits the way you want them to look. Pour in coconut water and place the cover or Popsicle stick into the mixture. Freeze overnight.
Let's Get Creative:
Increasing the amount of various fruits in your pops will also increase their colors! I used what I had on hand, but virtually any fruit should work with these ice pops.
Stay Classy! xx
---