Gluten-Free Zoodle Bruschetta with Chicken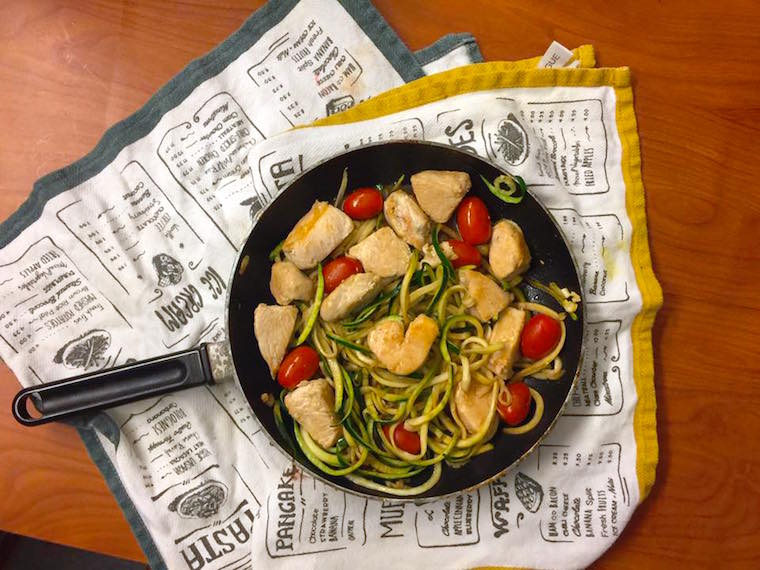 As the summer months are swiftly approaching the need for filling protein-packed dishes that won't leave you feeling bloated is on the rise. After spending a few weeks doing the Whole 30 program, I realized that part of what bloats me is a slight intolerance to gluten. No, I don't mean full-on celiac, but according to Dr. Catherine Shanahan, the author of Deep Nutrition, humans are not supposed to consume dairy or processed foods past the time of infancy.
After that bomb was dropped on me I started to switch up my diet and immediately realized some big changes. Number one, I wasn't bloated anymore. By cutting out cheese, bread and anything processed my stomach was able to work in tandem with my brain and my serotonin levels were soaring (I'm pretty sure my stomach has more influence on my mood than my brain!) Of course, I do this in moderation and if I'm really craving pizza, I'll splurge on a slice. But the feeling I get after that (bloating and greasy, oily skin) is nothing like the one I got after eating this delicious low-FODMAP and Whole 30 approved recipe (pure joy)!
To me, it seems like summer is the perfect time to start eating clean… and happy.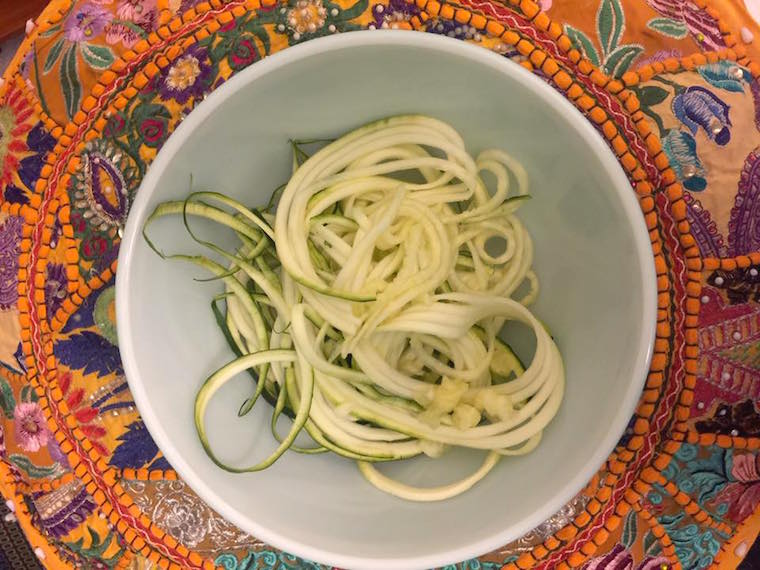 If you have a spiralizer (or a Vegetti) the wonders of gluten-free, vegetable based pasta are literally at your fingertips. Starting out with my love of spaghetti squash I've tried spiralizing a few other veggies and eating them like the pasta they were born to be. The most common veggie is zucchini, which might be why it even has its own pasta name "zoodles" aka zucchini noodles.
This dish is essentially a main dish because it's packed with protein from the chicken, and a side dish because it's full of yummy veggies, packed into one plate. It can be made in just two skillets and combined at the end to mix in all the delicious flavors.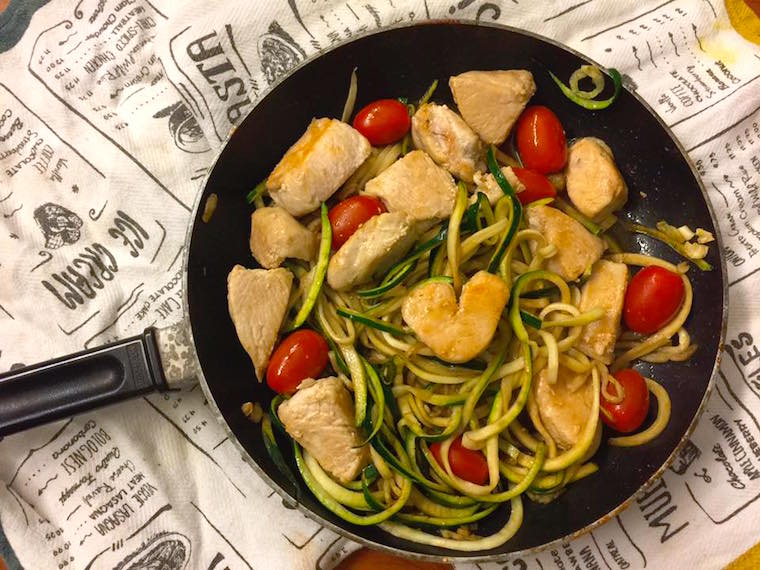 Keep reading to see the full recipe for Gluten-Free Zoodle Bruschetta With Chicken.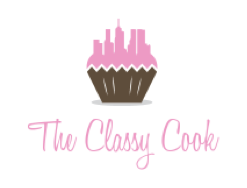 Gluten-Free Zoodle Bruschetta with Chicken
Prep Time: 10 Minutes     Cook Time: 20 Minutes     Total Time: 30 Minutes
Let's Get Started:
5-6 large zucchini, washed with the ends sliced off
10 cherry tomatoes, washed
2-3 medium pieces chicken, washed, seasoned and cut into cubes
Balsamic vinegar
Olive oil or Coconut oil
Salt and pepper to taste
Let's Get Cooking:
In a medium skillet, place 5 tablespoons olive oil. When heated, place chicken onto skillet on medium heat. While chicken is cooking, begin to spiralize zucchini into noodles (if you have never done this before, simply push the zucchini through the teeth of the spiralizer or veggetti and let strands of zoodles come out on the other side into a large bowl.) Mix in salt and pepper and place in a large skillet with either olive oil or coconut oil, depending on preference. Cook zoodles for 5-7 minutes, depending on the texture you are looking for. When chicken is just about cooked through, add it to the zoodle skillet and mix in cherry tomatoes. Top with balsamic vinegar and serve while hot. Enjoy!
Let's Get Creative:
While eating this dish I started to plan out the next version of zoodles that I would make… Stay tuned for a delicious dish featuring lean ground turkey meatballs!
Stay Classy & Enjoy! xx
---