Vegan Spaghetti Squash and Sauce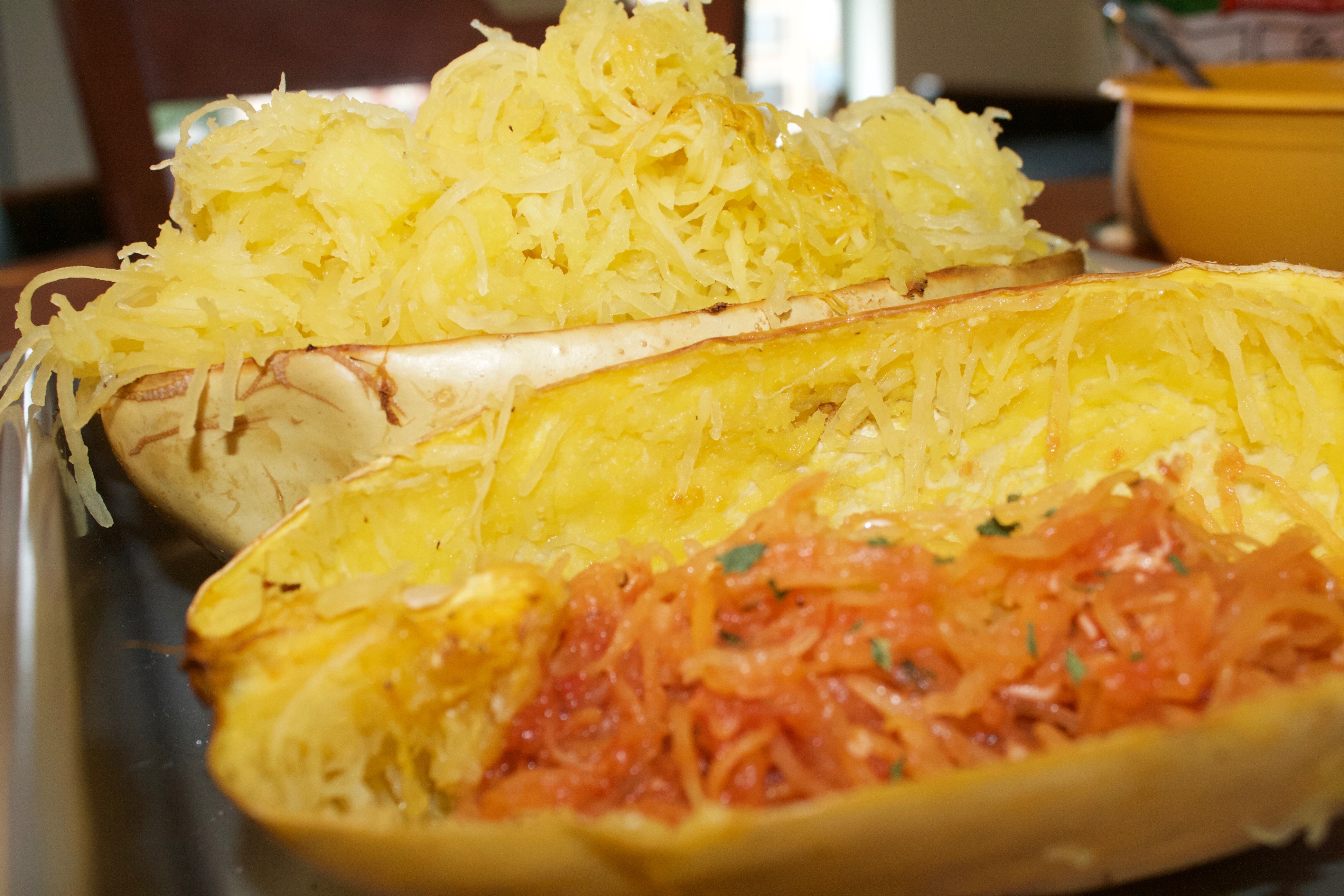 Happy National Spaghetti Day! You didn't think I'd pass up posting a yummy and healthy recipe on this delicious holiday did you? I'm bringing you a bowl full of steaming hot vegan, gluten-free and processed sugar free goodness – you're welcome! 😉
The most time consuming part of this recipe is probably the gutting of the spaghetti squash, you know like taking out the seeds and whatnot. But if you're an expert pumpkin gutter, than you'll certainly be able to finish this prep in no time! Plus, as with most squashes, once you rinse the spaghetti squash seeds you're halfway to completing my yummy Cinnamon Sugar Squash Seeds recipe. This serves as the perfect on-the-go snack and is SO easy to make!
You're going to want to roast the spaghetti squash in the oven for a bit so that the "spaghetti" are pretty much cooked. This is BEFORE you use a fork to rake it into the shreds you see in the photos above and below!
This recipe creates the perfect dinner (and make-ahead lunch for the rest of the week!) Pop it into a few mason jars (yup, I'm still obsessed) and bring it to school or work with you for an awesome guilt-free afternoon pick-me-up.
If you're eating it for dinner (perhaps tonight, to celebrate the National Spaghetti Day holiday) you can even serve in the squash casings! This does render A LOT of servings however, so be sure you can handle the portion sizes before serving 😉
Spaghetti Squash & Sauce
Prep Time: 20 Minutes       Cook Time: 40 Minutes        Total Time: 1 Hour
Let's Get Started:
1 spaghetti squash
Olive oil
Melt (Coconut Oil Butter)
Salt
Pepper
1 can crushed tomatoes
3 cloves garlic, minced
1 onion, chopped
Let's Get Cooking:
Preheat the oven to 375 degrees F. Cut spaghetti squash in half and brush the insides with olive oil. Sprinkle with Himalayan Pink Sea Salt and Pepper. Put cut sides down on a baking sheet and bake for about 40 minutes.
While the spaghetti squash is baking, toss onion and garlic in a pan with olive oil until slightly browned. In a small pot add crushed tomatoes, salt and pepper. Add the onion and garlic mixture to the pot as well. Simmer for about 40 minutes, or until the acidic tomato taste is dulled.
Take spaghetti squash out of the oven and rake it with a fork. Mix in the sauce and enjoy!
Let's Get Creative:
If you're feeling extra classy, add some red wine to your tomato sauce – I promise it won't disappoint!
Stay Classy! xx
---