Emerald Gemini Smoothie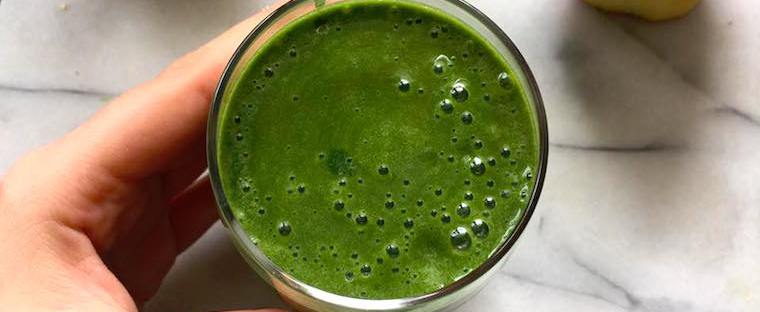 It's Saint Patrick's Day and New York City won't let you forget it! Streets are closed throughout the city to make way for the bagpipe led parade that snakes down 5th Avenue clad in kilts and everything green. When St. Patty's day falls on a Saturday, like it does this year, all bets may be off for a casual weekend of relaxation and face masks. There's no judgement if you wash down your (veggie) bacon and eggs with a full pint of Guinness – it's a feast day, after all.
But if the time comes today when you're feeling like you've had enough of a Saint Party's Day celebration, this Emerald Green Smoothie might just be the pick-me-up that you've been looking for.
All astrological serendipity aside – this smoothie is just as delicious as it looks. The sweetness of the fruit balances out the not-as-pleasing taste of nutrient-packed spirulina, which gives it an extra dose of protein as well.
Keep reading to see the full recipe for my Emerald Gemini Smoothie.
Emerald Gemini Smoothie
Serves: 2      Prep Time: 3 Minutes      Cook Time: 2 Minutes      Total Time: 5 Minutes
Let's Get Started:
1 banana
1 apple
1 handful spinach, washed
1/2 cup organic coconut water
1 Tbsp + 1 Tsp spirulina powder
Let's Get Cooking:
Toss all ingredients into a blender and combine.
Let's Get Creative:
Add more fruit to this recipe! It'll boost your nutrient and anti-oxidant levels and will make it taste even better. Note: the color will be less green depending on which fruits you add to it!
Stay Classy! xx
---