Pistachio Cannoli Cream Cake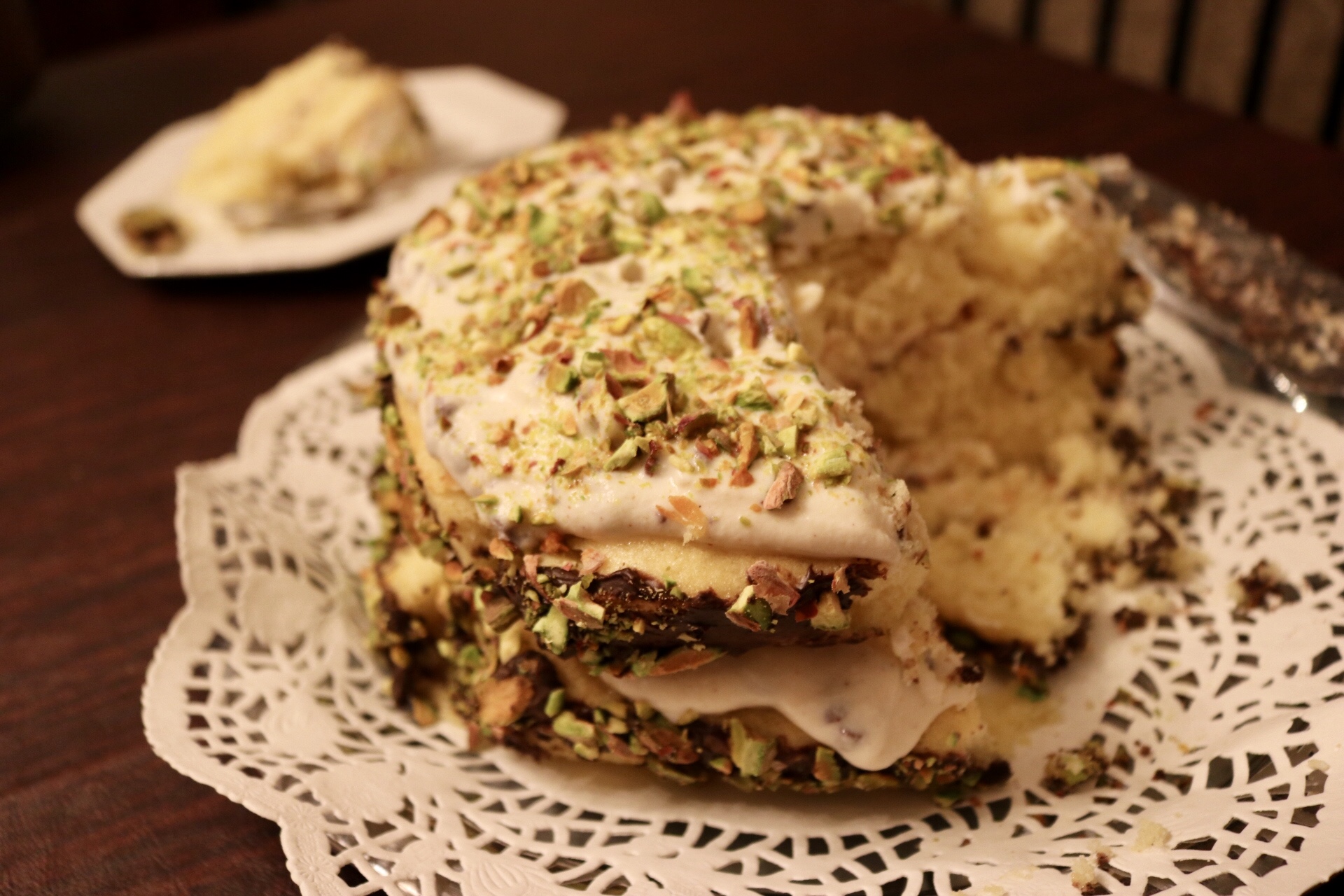 With Saint Patrick's Day right around the corner grocery stores have started selling baked goods covered in green food coloring and sprinkles. Home decorations and leprechaun-themed attire are out on the racks. If you're heading to a St. Patty's Day brunch or party, you can surprise your friends with a homemade – yet still on the green theme – cake that will taste loads better than anything store bought.
I made this recipe a week ago for my mom's birthday and it was a hit. It's the most complicated recipe I've tackled in a while and you'll want to start it a day early to make sure you get the cannoli cream to be the right consistency, but it was well worth it. The recipe is adapted from Martha Stewart's four-layer cannoli cake, and if you're feeling daring enough to cut the two cakes in half to give it some more height by all means, go for it! For this one, I decided to play it safe 😉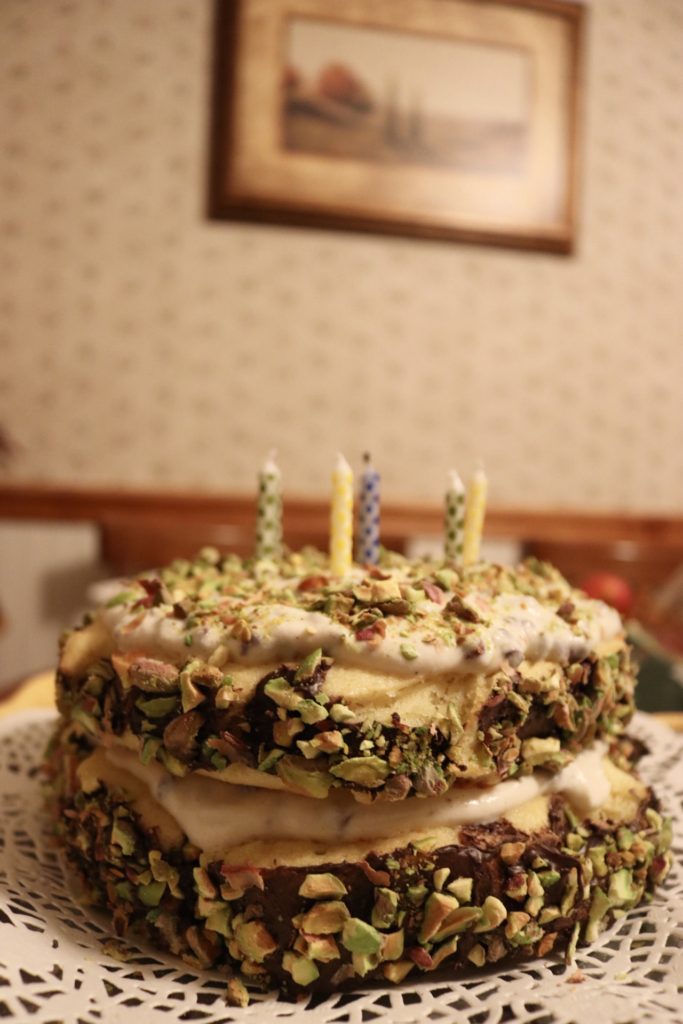 There are a lot of flavors in this recipe and the textures are all really rich. If you're running short on time and would rather use boxed vanilla cake mix instead of making it from scratch, I wouldn't blame you. But just know that you're missing out on a really saturated cake texture that plays together so well with the ricotta cannoli cream.
And of course, to give it a green spin shelled, ground pistachios stuck on the sides with melted chocolate make this cake one of the most stunning desserts you'll ever make. When I first posted pictures of the finished product on Instagram I had people ask me if I really made it or if it was store bought… I guess they haven't been to Shop Rite or Whole Foods in a while, because no one sells a pistachio cannoli cream cake that looks this pretty 😉
If you make this cake be sure to tag me in your pictures on Instagram @felicia.czo – I can't wait to see how they turn out!
Good luck & Stay classy! xx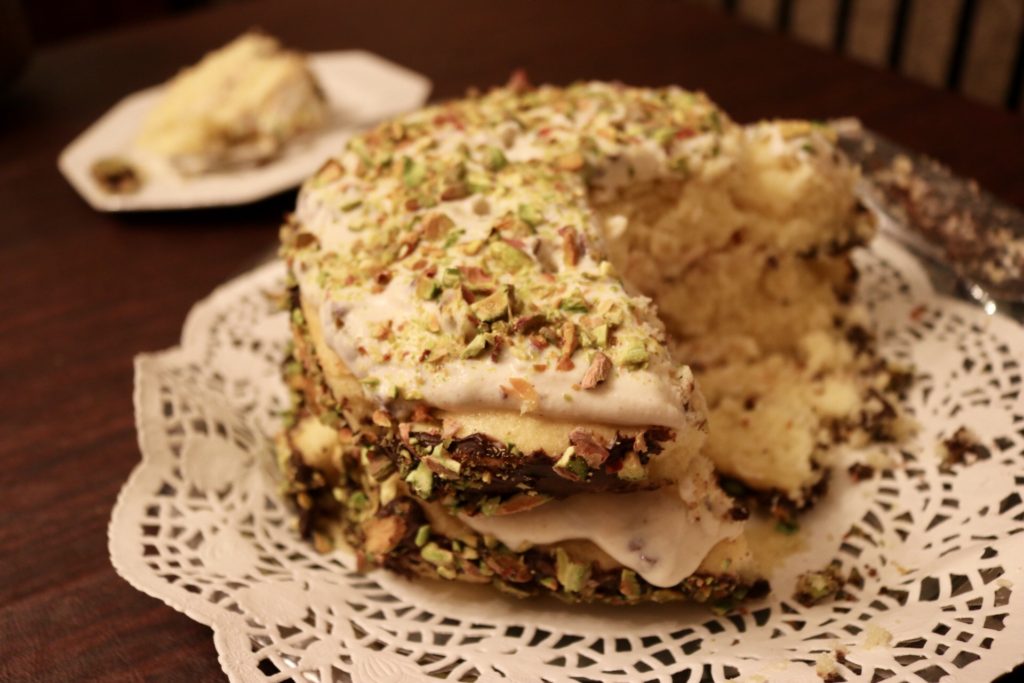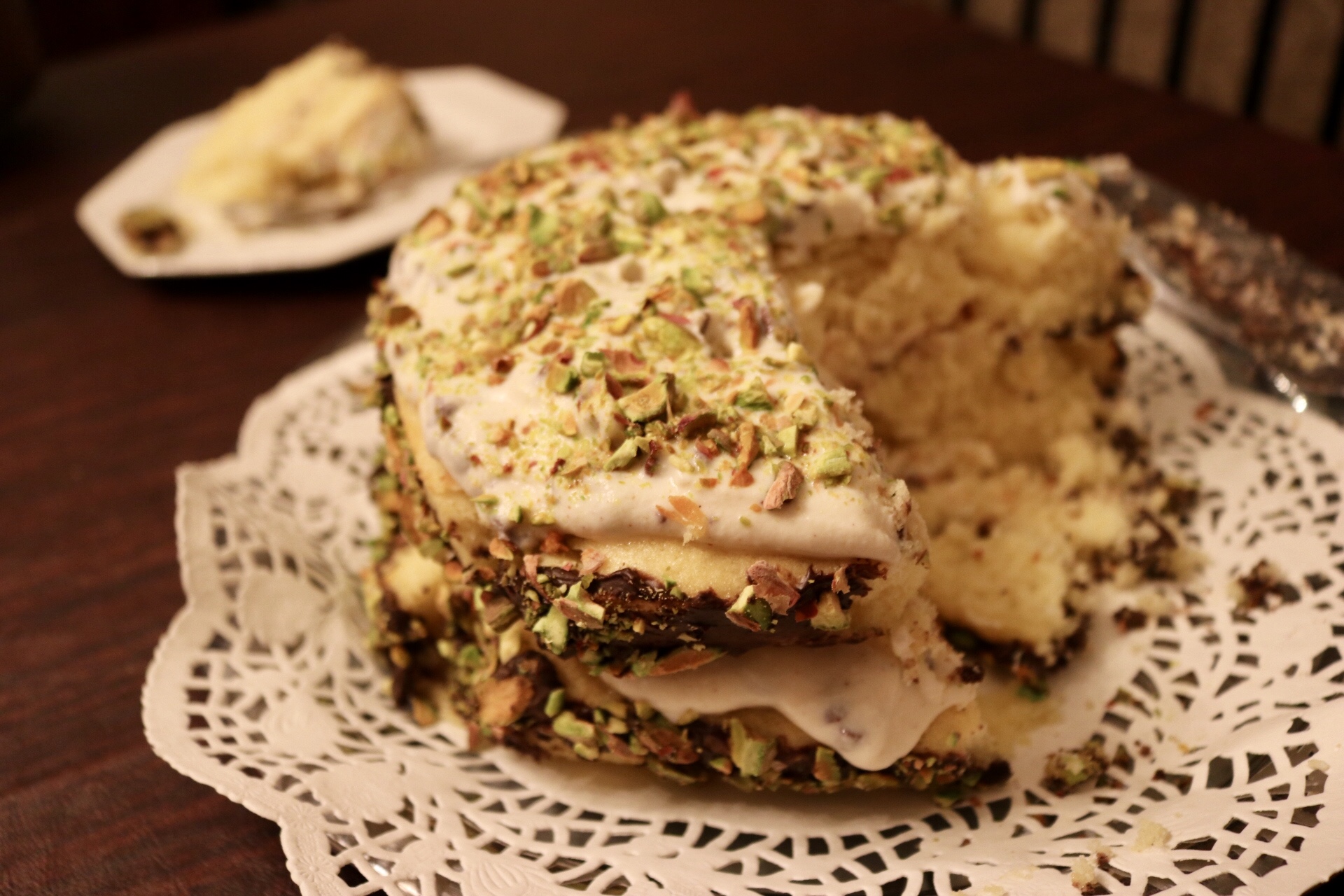 Pistachio Cannoli Cream Cake
Serves 8-10
Let's Get Started:
CAKE
10 tablespoons unsalted butter, room temperature
1 ½ cups unbleached all-purpose flour
2/3 cup shelled unsalted pistachios
1 ½ teaspoons baking powder
¼ teaspoon baking soda
1 cup sugar
1 teaspoon kosher salt
2 large eggs, plus 2 large yolks, room temperature
1 cup sour cream, room temperature
FILLING
2 ¾ cups fresh ricotta (1 ½ pounds)
¼ teaspoon kosher salt
¼ teaspoon ground cinnamon
4 ounces semisweet mini chocolate chips
1 teaspoon pure vanilla extract
¾ cup confectioners sugar
Let's Get Cooking:
Make the filling first, because it needs to be refrigerated for at least one hour and up to two days.
Combine ricotta until smooth, then add salt, vanilla, cinnamon and confectioner's sugar.
Stir in mini chocolate chips and then refrigerate in an airtight container for a few hours and up to two days.
On the day you plan on serving the cake, preheat the oven to 350 degrees.
Butter two 8-by-2-inch round cake pans and line pans with buttered parchment paper. Dust the paper with flour and tap out the excess.
Ground shelled pistachios in a food processor or nut grinder.
In a separate bowl, add flour, baking powder, baking soda and salt and combine.
In an additional bowl beat butter and granulated sugar on medium-high until light and fluffy for about two minutes. Beat in eggs and yolks, one at a time. Thoroughly combine after each addition. Add in the flour mixture and sour cream, alternating between batches.
Divide batter evenly between two cake pans and bake for about 35 minutes.
Let cakes cool for at least an hour and refrigerate for at least an hour, to minimize breakage when adding pistachios and chocolate to the sides.
If you want to make a four-layer cake, this would be the time to cut your cakes each in half. If you want to stick with a two layer cake, I promise it'll be just as delicious.
Melt chocolate and brush onto the sides of the cake with a brush or knife. Roll ground pistachios onto a piece of parchment paper and then roll the chocolate sides of the cake onto the pistachio pieces so they collect them as you roll it. Pat on additional pistachios.
Spread filling in the middle of the cakes, place the second layer on top and spread more filling on the top of the cake. Add the remaining ground pistachios to the top of the cake and any other decorations.
Refrigerate until serving and enjoy! x
Let's Get Creative:
If you're making this cake for St. Patty's Day you can absolutely get more creative with the decorations on top – maybe a little pot of gold and a rainbow? But this cake does look pretty classy just the way it is. If you're feeling daring you can also spike the cannoli cream with a few shots of Bailey's Irish Cream, which creates the perfect Irish-Italian flavor.
---