Restaurant Review – Le Marais Steakhouse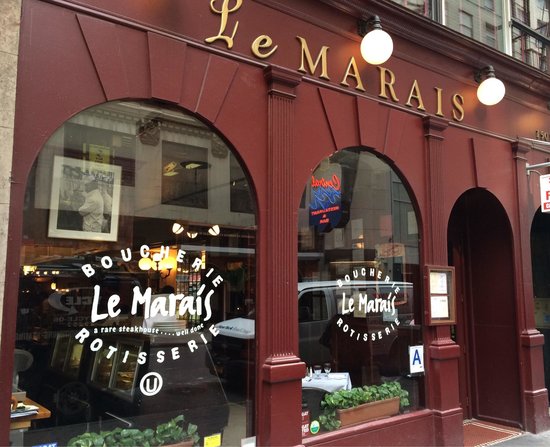 Le Marais Steakhouse   *    150 W. 46th Street, New York, NY 10036    *     ♥♥     *     $$$
Big lifestyle changes bring a new wave of firsts. A recent one for me – first time visiting a steakhouse without eating meat. At this point, I've been a pescatarian for close to four months. The switch from eating meat to eating mostly fruits, veggies and very little fish has been pretty seamless. As a former steak-lover walking into Le Marais in Times Square and seeing plates and plates of steak gave me the mixed feelings of nostalgia and an internal disquiet. Despite what I was afraid of before walking in, I was in a steakhouse and I wasn't craving meat.
I tried out Le Marais Steakhouse at the end of December. I was a little bit skeptical about getting there – it's located right off of 44th street in the middle of Times Square – during one of the city's busiest tourist seasons. Much to my surprise, after fighting through bundled up crowds on the street the inside of the restaurant was relatively empty and the customers in there seemed to be NYC locals and restaurant regulars.
The menu at Le Marais features a French-Kosher steakhouse mix. There are a wide variety of options on the appetizer and entrée list – but not entirely what you would expect from a classic steakhouse, where there is a surf 'n turf or lobster option. Instead, Le Marais seems very serious when it comes to steak. Of course, being a pescatarian, I ordered something different.
I think the strength of a restaurant comes from doing a variety of dishes with interesting non-cliché flavors, and doing them well. My meal at Le Marais fluctuated between outbursts of "damn, that's good" to "can you taste this, I think it's a little dry." Some dishes featured an interesting mix of flavor and others I found lacking in that category.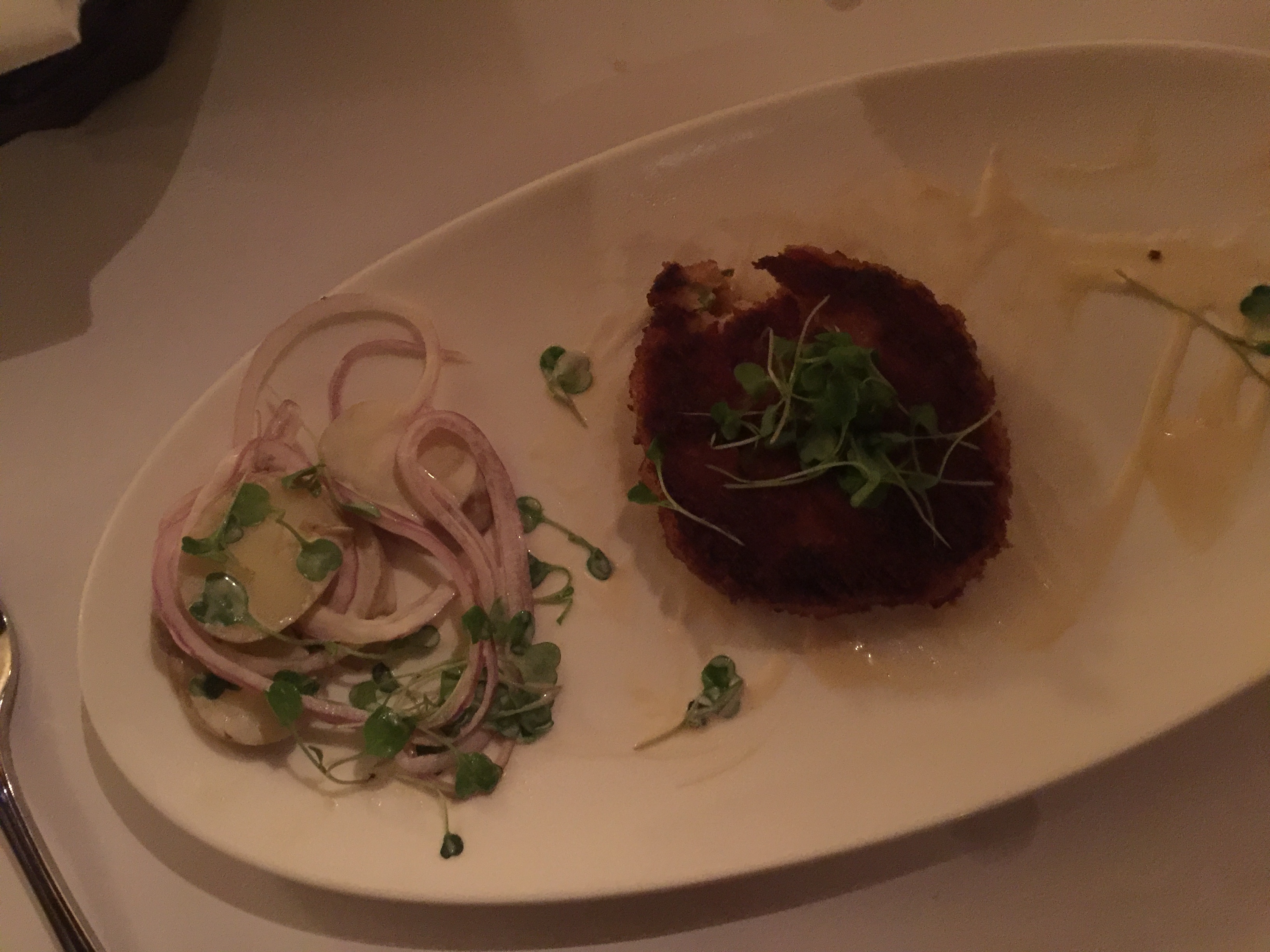 For my appetizer, I ordered the Galette de Saumon (a pan fried salmon cake, fingerling potatoes and parsley salad). This was the most delicious fish cake I've ever had in my life – no exaggeration. Though this is the first salmon cake I've ever had, it was so delicious that I started to wonder if I could order more as my main entree. They were crispy on the outside and so flavorful that adding tartar sauce was not even necessary.
The appetizers were served with a glass of wine and a small side of really wonderfully delicious bread. I was not expecting much from the bread at a steakhouse – mostly associating bread baskets with Italian restaurants, but as this is a French Kosher restaurant, the bread definitely took on an incredible homemade flavor that reminded me of the French baguettes that I gobbled down while in Paris a few years ago. The bread and salmon cakes were for me, the main highlights of my meal at Le Marais.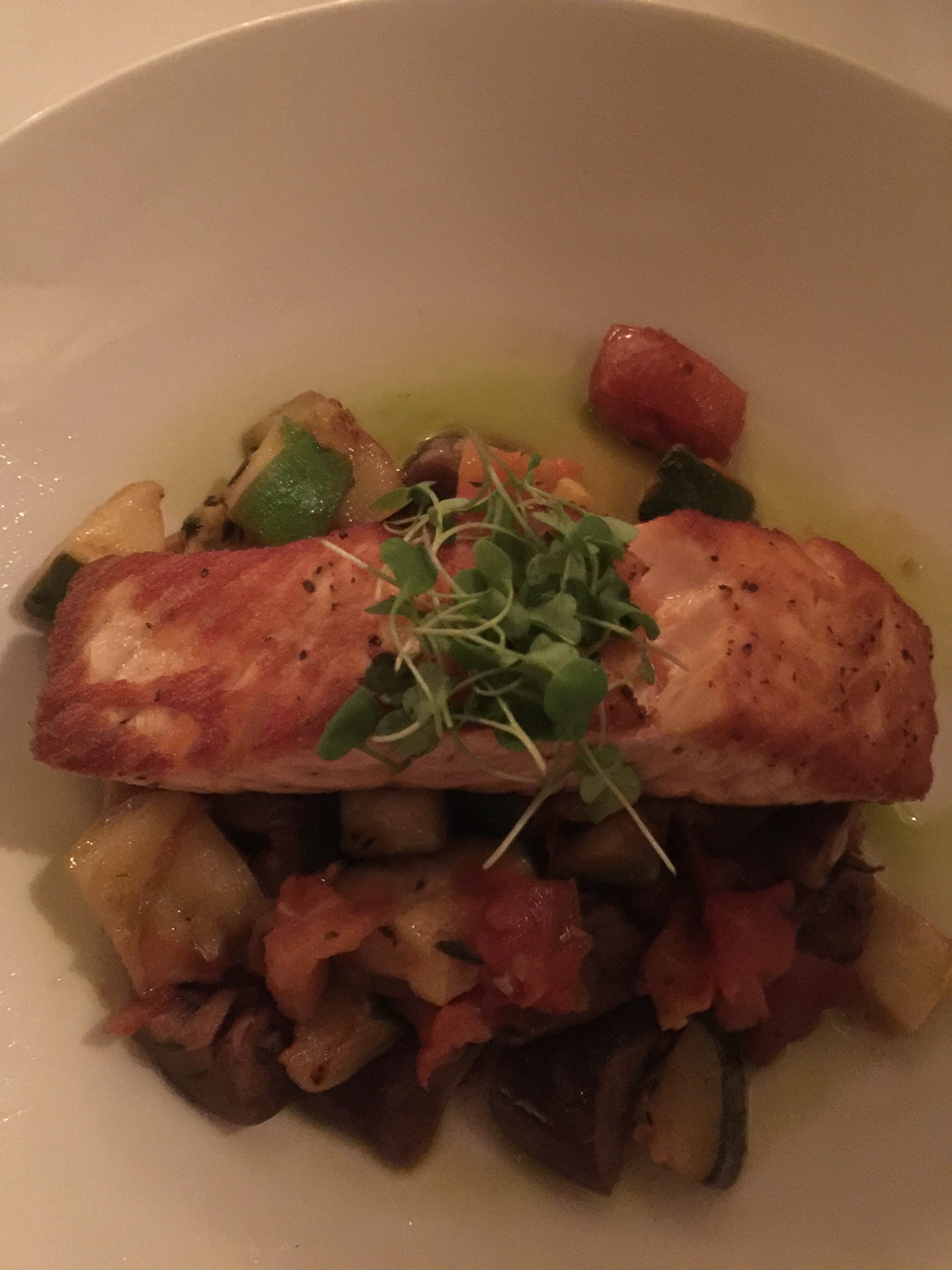 For my main entree I ordered Filet de Saumon Roti (roasted salmon, ratatouille and chive oil). The vegetable ratatouille gave the dish a lot of flavor, which was then washed out by the addition of the chive oil. The salmon tasted as if it was cooked a bit too long and dried out. It was not inedible, but I would not make the trek back through the crowds of Times Square for it again.
If I were going to a Broadway show, however and was looking for a place to stop in for a quick pre-show drink and appetizer this would be a recommendation. Despite its proximity to tourist mobs, you won't have to wait for a table and the bar looked even more cozy. If you do stop in, make sure the salmon cake is on your radar!
Stay Classy, NYC! xx
---