Chocolate Coconut Oatmeal Nest Cookies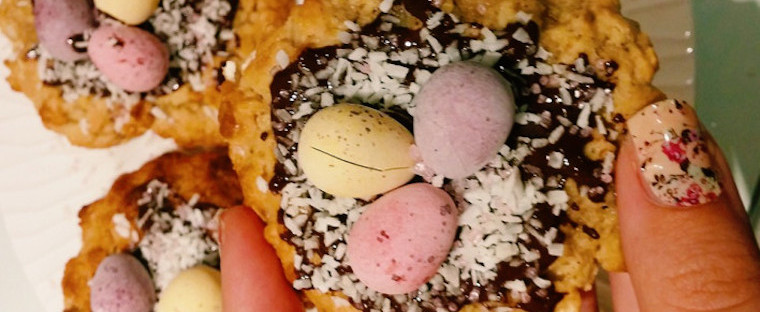 Nothing gets me in the mood to bake more than a combination of stress (baking is definitely one of my biggest stress relievers!) and an upcoming holiday. I grew up in a house where we bake for every holiday and these nest cookies are just the beginning of the dessert menu this year! I am blessed to spend the weekend with my family and am excited to make these Oatmeal Crème Pies with Homemade Whipped Crème for Easter Sunday.
Yet after a glass of wine and quick trip to grocery store, I realized that Oatmeal Crème Pies weren't going to cut it with my creativity. So I melted some chocolate, broke out the coconut and Cadbury Crème Eggs and turned my would-have-been oatmeal crème pies into some adorable little Easter nests. They were a hit with my boyfriend and I know my family will love them as well! Of course, I saved a few cookies to make the oatmeal crème pies that I had originally intended to create, so this recipe includes the decorating ideas for those as well! xx
Let's Get Started:
For the cookies:
1 cup butter (about 16 Tablespoons), softened
¾ cup light brown sugar
½ cup granulated sugar
2 large eggs
1 teaspoon pure vanilla extract
1 ½ cups all-purpose flour
1 teaspoon baking soda (or 3 teaspoons baking powder)
1 teaspoon ground cinnamon
½ teaspoon salt
3 cups oats
For the whipped crème:
1 cup whipping crème
1 Tablespoon granulated sugar
For decorating:
Baking Chocolate
Shredded Coconut
Sprinkles
Cadbury Crème Eggs
Let's Get Cookin':
Preheat the oven to 350°F. Line cookie sheets with non-stick parchment paper. Cream together butter and sugars until light and fluffy. Add eggs and vanilla and mix until combined. In a medium bowl, whisk together the flour, baking soda, cinnamon and salt. Slowly add the flour mixture to the wet ingredients, mixing until combined. Add in oats and mix until incorporated in the batter. Bake larger cookies in oven for 13-15 minutes and smaller cookies for 7-10 minutes or until golden brown (my oven tends to get quite hot so 7 minutes was plenty of time).
For the homemade whipped crème, pour whipping crème into a medium size bowl with granulated sugar. Whip until fluffy and peaks begin to form.
Let's Get Creative:
To decorate the Chocolate Coconut Easter Nest Cookies I melted pieces of baking chocolate and drizzled it on top of the cookies. Then I used desiccated coconut to create the base for the nests. On some cookies I placed a dollop of whipped crème atop the coconut and set the eggs in that for a fluffier and sweeter creation. Then I sprinkled small pink sugar crystals. You can totally play with the coconut strands and use food coloring to dye them fun colors as well!
For the Oatmeal Crème Pies, I selected cookies around the same size and filled them with homemade whipped crème. I then put the remaining crème into a plastic bag, cutting a small hole out of one corner and scalloped the crème around the edges of the crème pies. I then sprinkled the pink sugar crystals around this crème and voila!
Enjoy & Happy Easter!
Stay Classy! xx
---