Back To School Series: '17-'18: Wrinkle Free Style + Dorm Essentials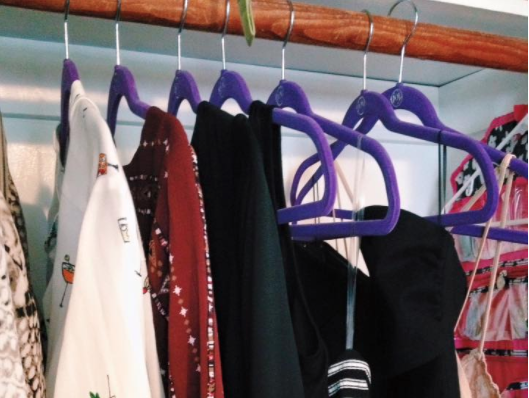 With move-in day right around the corner, I'm sure you've all been getting your back-to-school shopping out of the way – including room decorations, cleaning supplies and fall wardrobe. Especially if you're an upperclassman moving into an apartment in a few weeks, your shopping list might even be EXTRA long. Now in addition to bedroom and bathroom supplies you need things for a living room and kitchen… and enough of it all your roommates and yourself! I'm sharing some of my favorite back to school essentials on here the next few weeks and I hope they're helpful!
After three years of using the same hangers – and a wardrobe that's been known to be so full it's not uncommon for my hangers to break – it was time for a new collection. I'm sure by now many of you have seen the movie "JOY" featuring Jennifer Lawrence's award-winning role. It came out last year and was inspired by inventor and entrepreneur, Joy Mangano. Mangano's home goods collection is expanding this summer with her dorm essentials!
For my closet next year, I tried out Joy Mangano's Huggable Hangers in purple, which come in a 6-pack of shirt hangers and a variety of different colors! The hangers are actually an incredible deal right now because they are on clearance for $3.95/6-pack and if you sign up for e-mails you get an additional 15% off your purchase. Although something that might be overlooked, hangers are an easy and practical way to help coordinate your dorm – making move in a bit less stressful! I've tried out these hangers and will definitely be bringing them to school with me in a few weeks. Not only are they one of my favorite colors, but they're sure to keep my clothes from falling down amidst groggy mornings of getting dressed. It's a small convenience like this that can go such a long way throughout the course of your day!
I've done a bit more exploring on the Joy Mangano website and fell in love with the "My Little Steamer" which is an awesome alternative to ironing. Especially right after unpacking my luggage on move-in day, I find that the majority of my clothes are so wrinkled that they aren't wearable. This steamer is the perfect quick-fix to a wrinkled outfit and takes much less time to use than setting up an iron and ironing board. It is definitely going to be a go-to problem solver for me next year.
In the photos you guys can see some of my favorite fall clothing staples (happily hanging from the purple velvet Huggable Hangers). I was so excited when I found this nude and rose embroidered silk and sequined shirt from Zara. It's been on my wish list for a while (waiting to be purchased in my online shopping cart for weeks) and I happened upon it in the store the other day – yay no shipping cost! I'll be pairing it with dark jeans and leather booties… if only this heat wave would cool down! I'll be putting up some more fall style posts soon. Are there any particular outfit styles you guys would like to see?
Let me know in the comments or via e-mail!
———————————————————————-
Featured:
Joy Mangano "Huggable Hangers" (Retail for $3.95/6-pack); Joy Mangano "My Little Steamer" (Retails for $29.99); Silk and Sequined Shirt, Zara (Retails $19.99); Saffiano Leather Wallet ($121), Cocktails Silk Shirt, Zara ($49.99), Black and White Striped Off-the-Shoulder Shirt, Nordstrom ($21).
Stay Classy! xx
---
---