Almond Cookies with Blood Orange Frosting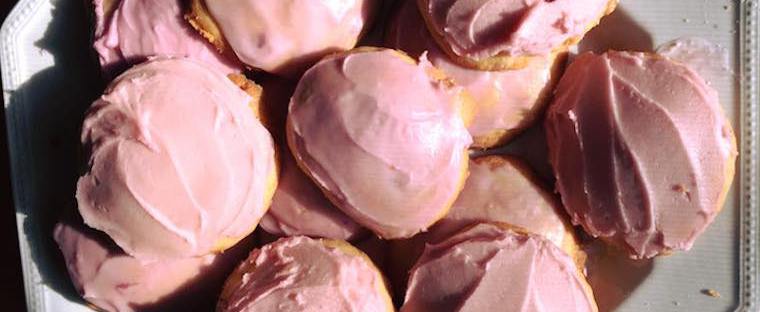 *I received products from Limoneira and Nielsen Massey to create this post however, as always, all opinions are my own.
All it takes is one out-of-the-ordinary ingredient to get my kitchen creativity stirring (and mixing, whisking… you get the picture.) So when a box of the most beautiful blood oranges I've ever come across landed into my hands, I knew I had to make something worthy of them.
Limoneira prides itself in creating the most gorgeous fruit on the market, and from personal experience I can attest that this is not an exaggeration. Plus, their fruit tastes as good as they look – meaning, really lip smacking mouthwatering good.
Putting this recipe together gave me reinstated faith in my culinary skills. I've been SO busy the last month and a half (working my day job(s), trying to finish college, trying to find the perfect full time post-graduate job, you know the drill) that I've barely managed to cook for myself, let alone bake. Gaining a few moments in the kitchen over spring break reminded me that this is what I love to do, and it's a great stress reliever too.
I try to use the most natural and organic ingredients I can find when creating my recipes (and I link to the products I love in the ingredient list below!). Whether it is food or beauty products, my goal is to come in contact with all that is natural, non-toxic and not doused with chemicals, preservatives and all of the bad-for-you things that the FDA shouldn't allow in our food… sigh.
This is pretty difficult at times, but hey, at least for this recipe (and all of the recipes on my site!) I did the hard work for you – all you have to do is click and buy via Amazon and the ingredients will be at your doorstep in 2-3 days. Voila, sometimes the Internet is magical.
These cookies bring out the citrusy nutty flavors that remind me how great it is to be Italian. The combination of blood orange, almond and sugar will have you reaching for another and another with a big hot cup of herbal tea (no caffeine FTW!) They come out soft and almost fluffy, making them fun to frost and even more fun to eat. I hope you enjoy them as much as I did. x
Keep reading to see the full recipe for my Almond Cookies with Limoneira Blood Orange Frosting.
Almond Cookies with Limoneira Blood Orange Frosting (Yield: 25 cookies)
Prep Time: 20 Minutes  Cook Time: 3 Hrs 10 Minutes  Total Time: 3 Hrs 30 Minutes 
Let's Get Started:
for the cookies
1 1/2 cups flour
1 tsp cornstarch
1 1/4 tsp baking powder
1/2 tsp salt
1 Tbsp blood orange zest
1/2 cup sugar (you can sub this out for monkfruit for a healthier option!)
1/4 cup light brown sugar
1/2 cup unsalted butter, at room temperature
1 Tbsp blood orange juice
1/2 tsp pure almond extract
1 large egg
for the frosting
1 cup plus 2 Tbsp powdered sugar, sifted
pinch of salt
1 Tbsp unsalted butter, melted
2 1/2 Tbsp blood orange juice
1/8 tsp pure almond extract
Let's Get Cooking:
Whisk together flour, cornstarch, baking powder, and salt in a small bowl. Place blood orange zest and white sugar in a food processor (a blender works similarly well) and pulse for 1 minute. Beat blood orange sugar, brown sugar, and butter in a large mixer bowl until creamy. Add blood orange juice, almond extract and egg; beat until just combined. Gradually add flour mixture; beat just until combined.
Transfer dough to an airtight container and refrigerate for at least 3 hours or overnight.
Preheat oven to 350°F. (If cookie dough has chilled overnight, let stand for 20 minutes before baking.) Line two baking sheets with parchment paper. Form 1 1/4 inch balls of dough and place a few inches apart on baking sheets, flatten mounds slightly. Bake for 10 minutes, or until golden.
For the frosting: whisk together powdered sugar, salt, melted butter, blood orange juice, and almond extract in a small bowl until smooth and spreadable. Frost cookies and let set before serving. Enjoy!
Let's Get Creative:
You can play around with the amounts of blood orange juice that go into the frosting mixture to change the color of the frosting! Some blood oranges are more purple than pink, and that translates to frosting colors as well.
In a baking mood? These Cinnamon Crackle Cookies are great to make (and eat) for any season. And this buzzy service will send you gourmet ingredients and recipes to bake up easy and delicious desserts.
Enjoy & Stay Classy! xx
---