Clean Beauty Swap: Powder Foundation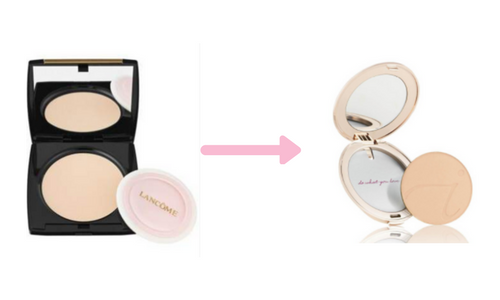 If you've been following along on Class and the City, you know that the Clean Beauty section has *finally* launched! I am so excited to share all of the research I've been doing about toxic beauty ingredients and the amazing healthy and clean cosmetics that you can swap them out for.
When switching your beauty regimen to clean and nontoxic products, you might feel a bit overwhelmed. If you try to look for unhealthy and harmful ingredients, like those that I detailed in this post, you may find that the majority of the makeup and skincare products you have been using are actually harming your body. I totally understand that switching to clean beauty is both a time and financial commitment. However, many clean beauty brands are not much more expensive than more traditional (toxic) brands that you may be used to using. In many cases, you can even try out samples to see if you like a product before purchasing it full-size.
To make this transition easier, instead of simply dumping your entire makeup bag into the trash and starting over – which isn't a bad idea if you're thinking "enough is enough!" and are able to make the immediate investment! – swapping out products that you use the most is the best way to start.
For me, this was switching out my foundation. For YEARS I've been using Lancome Dual Finish Powder Foundation – at least once a day. This foundation was $40 a pop, but covered my skin perfectly and matched my complexion, which made it worth it to me. When I made the switch to clean beauty, the first thing I checked was my trusty foundation and I was so upset. The ingredients in this foundation was fully linked to cancer, developmental and reproductive toxicity and allergies and immunotoxicities.
SOME (yes, there's more than this) of the dirtiest ingredients in it included:
+ TALC (This is a KNOWN carcinogen that has been linked to Ovarian Cancer. It has also been found to cause respiratory and skin issues.)
+ BUTYLPARABEN (remember the details about Parabens in my last post? Parabens mimic estrogen and act as hormones, causing total disruption within your body's reproductive organs. Not to mention, it's linked to cancer.)
+ PARFUM / FRAGRANCE (This is in there to mask the smell of the rest of the chemicals, and it disrupts your hormones and can induce allergies as well.)
+ CINNAMYL ALCOHOL (This gives the foundation a nice cinnamon scent, however it also is linked to immunotoxicity and sensitising effects – which cause depression and anxiety.)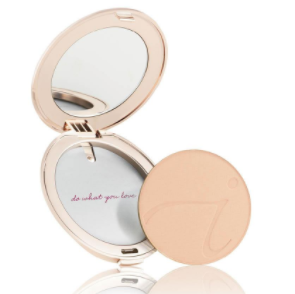 SO after tons of research on foundation brands that would be just as effective as my Lancome foundation (RIP) I found Jane Iredale Purepressed Base Mineral Foundation. It costs $42 (that's just TWO dollars more than the Lancome foundation) and worked the same with my skin. The ingredients in this foundation are totally natural and clean. The only difference is that this foundation is applied with a foundation brush instead of a sponge – however it's versatile enough that either can be used. This would be my recommendation for a Classy Clean Beauty powder foundation.
Are you making the transition to clean beauty? What product swap do you want to see next?
Stay Classy! xx
---