A Conversation With Colleen Atwood: Iconic Costume Designer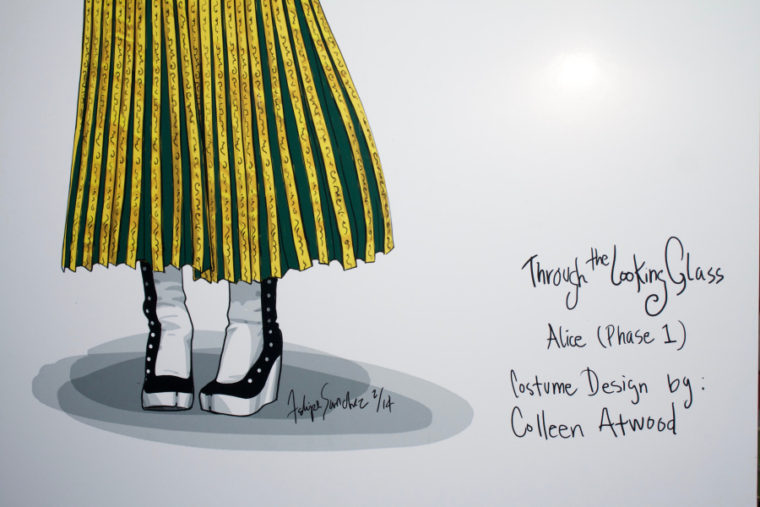 In light of the stress levels emanating through the nation these past few weeks, hopping through a "looking glass" and escaping for a few hours is starting to sound pretty enticing. Just two weeks ago, "Alice Through the Looking Glass
" launched on DVD and I'm bringing you all the details from the Disney launch party, including an exclusive interview with Oscar-winning costume designer, Colleen Atwood.
The movie is a follow up after the success of the Disney remake of "Alice in Wonderland." With a star-studded cast including Mia Wasikowska, Anne Hathaway, Johnny Depp and Helena Bonham-Carter, the movie was a hit in theaters and most certainly will be for home-viewers as well. The treasured story has been remade into a darker magical tale bringing us to Victorian England and through costume design and styling, back to 1960's Japan.
Ms. Atwood is an esteemed Oscar-clad costume designer who's won awards for her work in the films "Chicago," "Memoirs of a Geisha" and "Alice and Wonderland." At the launch party for "Alice Through The Looking Glass" she dished to me about how she grew in her career, what it's like to be on the guest list for Tim's Halloween Party each year (as in, producer Tim Burton) and what's next.
Q: What was your inspiration behind Alice's costume in "Alice Through The Looking Glass"?
I found the story to be such an exciting message for women. Alice has just returned from three years at sea and and is all grown up and feeling empowered. I had so much fun designing her costumes because I was able to purposefully dress her in pants. This was something definitely not accepted during the time in which the film is set, however it makes a statement about the strength of her character and her ability to break barriers and not care what others think.
Q: What happens to the costumes you design after the filming period has ended?
Disney actually owns the costumes, not me. They are usually shown through different museum exhibits all over the world. I think some of my most recent designs were just shown in Florida. Sometimes the actors and actresses will want to purchase them and keep them for their own collection. Johnny (Depp) does this with all of his costumes and he really takes care of them quite well. You can't just stuff these things into a closet to collect dust, it takes a lot of time and a proper setting to maintain them. He's really great about that and it's a great visual tribute to his career.
Q: Did you always want to become a costume designer?
Not at all. I grew up in Seattle and what I was drawn to was painting. I wanted to be an artist and wanted to find a way to make it work. The idea of costume designing came much later for me, when I had moved to New York and decided I wanted to work in movies. My interest in art and movies came together and this is what I love to do.
Q: How did you get to where you are in your career?
When I graduated high school I was pregnant and just wanted to try and get by. Eventually when my daughter was more grown up, I moved to New York with $500 in my pocket and absolutely no plan as far as what I was going to do and where I was going to work. Eventually opportunities began to merge together but it was not without a fair share of frustrating situations and hard times. Eventually my worries went from what I was going to eat to what I would wear to Tim's Halloween Party the next month.
Q: What advice would you give to someone who's just starting their career?
I really think the success I have had has been 50% luck. I have to be really honest. I've been really lucky and blessed in that way, but I also think if you have sincereness and heart, and if you work really hard at what you do, you have success.
Q: What's the most difficult part about designing costumes for film?
You really have to think about how the camera will see the colors and the details. I have a lot of examples from my work with Miss Perigrine's Home For Peculiar Children because that was more recent. I spent a long time trying to find the exact shade of black that would appear to be highlighted by a deep mysterious blue on camera. I did end up creating the exact shade and the costume turned out delightful, but it is a process. We had some fun shoots underwater as well, so when designing costumes for those scenes I would have to take into consideration how the costumes would move under water.
Q: So what's next for you and your career?
I designed the costumes for Miss Perigrine's Home for Peculiar Children, which will be out in theaters very soon. I'll be doing some promotions for that until things get busy again.
Stay Classy! xx
---