Classy Recipe: Homemade Golden Apple Pie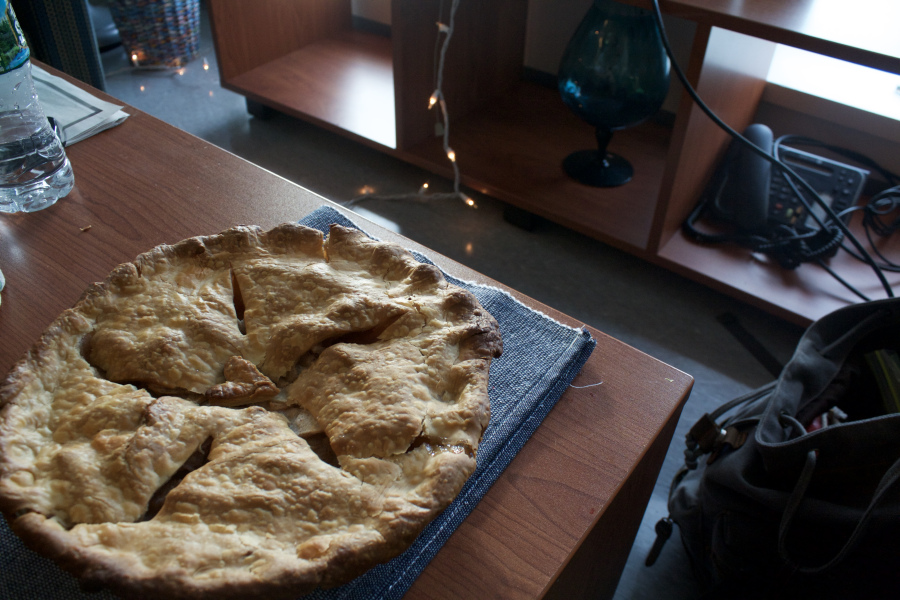 There are so many reasons why fall is such a great season – yes, half of them are fall dessert like this apple pie, and the rest include not melting into a puddle of sweat while waiting on a subway platform. In addition to sweater weather and gorgeous walks in red and orange transformed parks, fall spices up the menu with some delicious seasonal fruits and veggies, which can be transformed into your favorite dishes and desserts.
One of my favorite weekend activities in the fall is apple picking and I really try to make it out to an apple orchard at least once a year. This may or may not have something to do with getting fresh apples to make some of my favorite apple recipes – this apple pie and homemade apple sauce.
Anyway, the recipe below is FLAWLESS and the pie came out so delicious that I just had to share. It's never too early to start celebrating the changing of the seasons and CATC will be enjoying the benefits all week.
Note: This apple pie tastes incredible at room temperature or warmed, or with a scoop of delicious San Bernardo ice cream I ate it with Italian Cheesecake flavor and the entire pint and pie disappeared so quickly… YUM.
Homemade Golden Apple Pie
Prep Time: 25 Minutes     Cook Time: 45 Minutes     Total Time: 1 Hour 10 Minutes
Let's Get Started:
6 cups thinly sliced apples, about 6 medium apples
3/4 cup sugar
1 1/2 tsp Apple Pie Spice (Nutmeg, Cinnamon, All-Spice)
1 Tbsp lemon juice (I used juice from a Limoneira Lemon, and the fresh taste is so different from grocery store quality!)
2 Pillsbury pie crusts (I'm all for making as much of a recipe from scratch as possible, but time restrains kept me from doing so this time… plus this crust is delicious!)
Let's Get Cooking:
Preheat oven to 425*. Place 1 pie crust in an un-greased 9-inch pie plate, pressing firmly against sides and bottom. In a large bowl, mix filling ingredients and spoon into crust. Top with second crust. Cut a few slits in top of crust before baking. Bake 40-45 minutes, or until crust turns golden brown. Cover edge of crust with tin foil for the first 15 minutes of baking, so that it doesn't burn! Let cool for 2 hours before serving. Enjoy! 🙂
Let's Get Creative:
I prefer a more traditional apple pie, but you could of course add more ingredients to the filling, maybe some ground nuts, and get more creative with your toppings. To me, it doesn't get better than warm apple pie topped with a delicious scoop of simple vanilla ice cream, but you can add caramel and whipped cream to top off the pie as well.
Stay Classy! xx
---